WhatsApp Business Opt-Ins: One of the most potent sales and support tools ever created is WhatsApp opt-in. Chatbots for WhatsApp are inexpensive, effective, and user-friendly.
WhatsApp, on the other hand, understandably does not want to become a spam hotspot. As a result, collecting WhatsApp Business Opt-Ins is required in order to engage with clients using WhatsApp.
What exactly does WhatsApp's corporate opt-in entail?
An opt-in message on WhatsApp is generally defined as a type of express consent given by consumers acknowledging interest in a product or service and permitting a third party to contact them with additional information.
Before any communication between the two parties, WhatsApp mandates that companies obtain explicit approval from customers.
WhatsApp Business goes on to say WhatsApp opt-ins can be found all over the internet. You agree to receive newsletters, services, reminders, and other communications in the future.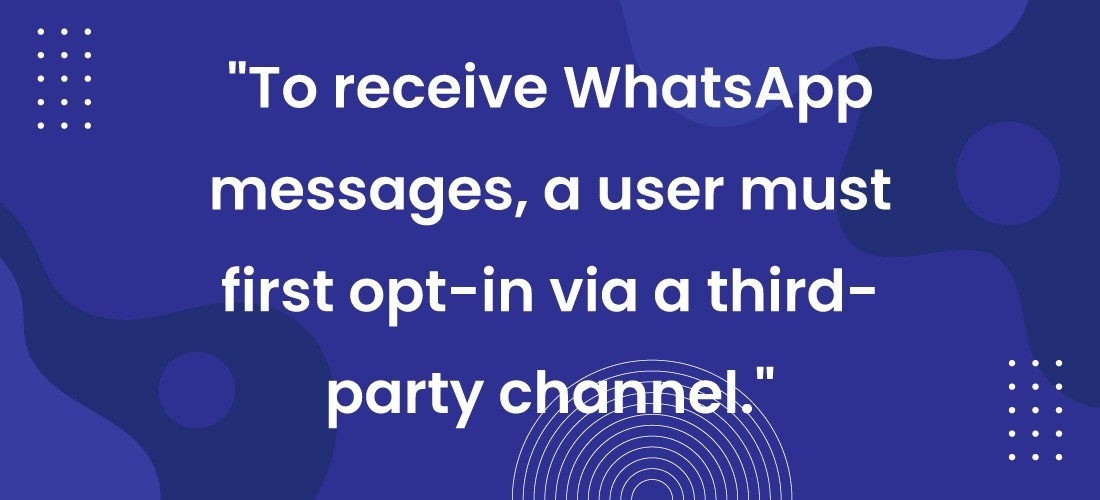 Companies must comply with particular third-party opt-in standards during the collection process. The specifications are determined by two factors:
The WhatsApp opt-in message's format – The format of the WhatsApp opt-in message must be as follows: "on [number], receive [noun], [logo, and name]"
The user interfaces utilized — The opt-in must be done via a visible element (such as a checkbox), must include the WhatsApp logo, and must allow the user to express control over which phone number is used (an entry field).
What are the most effective methods for obtaining WhatsApp business opt-ins?
The developer documentation on Facebook's Developer portal merely reads "Channels used for opt-ins."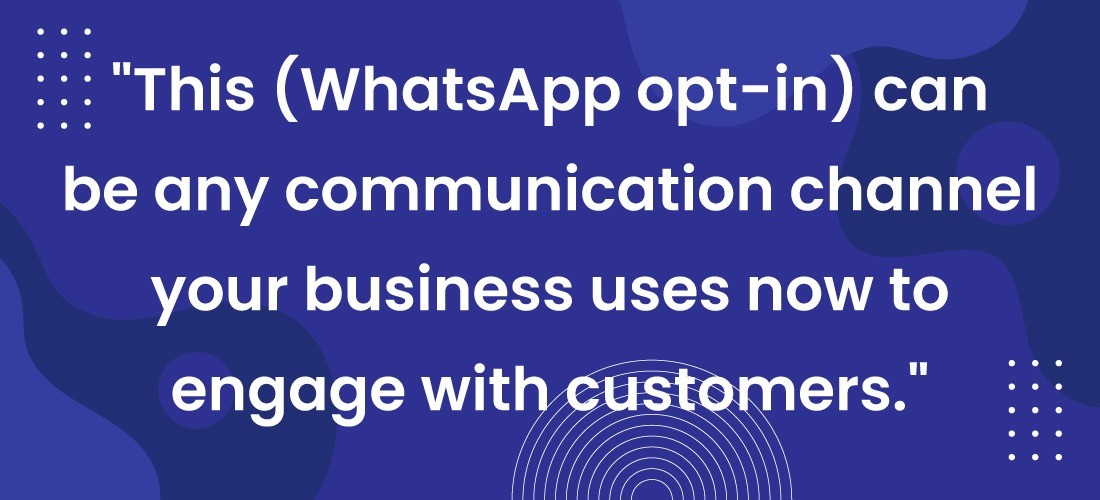 Opt-in forms on websites
The most valuable digital asset you have is your website. Regardless of your sector, your website is an ideal place to collect opt-ins.
Customers can sign up to get new and old WhatsApp communications. On your website, you may collect WhatsApp opt-ins in three ways.
Back to the top
One of the most effective conversion-boosting strategies is your home page. To market your swanky new communication channel, use a pop-up.
Returning clients might switch from email/call to your new service for speedier assistance.
Banners- WhatsApp Business Opt-Ins
Banners can be placed at the top of your most visited pages. This will help you attract both casual and intent-driven leads.
They can use WhatsApp to contact you and get their questions answered more quickly.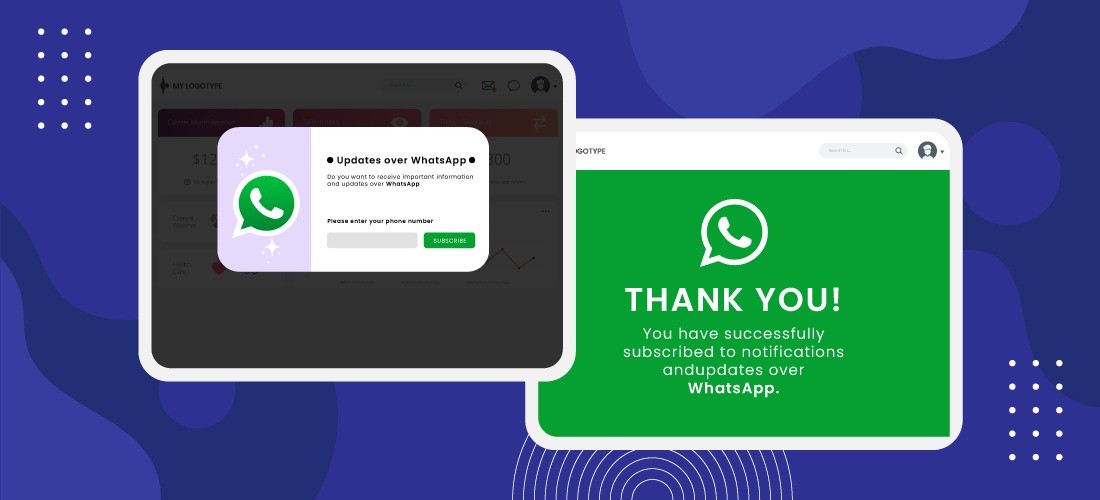 Landing pages
You may create a landing page just for announcing your WhatsApp Chatbot. To begin, use banners or your home page to send clients to your WhatsApp landing page.
This gives you the ability to share more information about it in one place. Customers can give their consent by supplying their phone numbers and responding to your CTA.
Take them to a "thank you" page once they've done the task successfully. To get the most out of your landing page, make sure it works across all devices.
Existing communication channels
The best method to attract existing clients to sign up for WhatsApp is to leverage the channels you already use to communicate with them.
Within a WhatsApp chat, businesses may now collect alternatives. If you're currently conversing with your user, you can ask for permission right away.
Apart from WhatsApp, businesses often use a wide range of platforms to communicate and interact with their clients.
The larger the firm, the more likely they are to employ various touchpoints, from emails to SMS and everything in between.
Opt-ins for third-party channels
You can leverage your existing channels for optimum conversion, as we suggested earlier. You might, however, use other third-party channels to cast a wider net.
SMS- WhatsApp Business Opt-Ins
SMS is a widely used broadcast marketing and customer service tool. Consider sending customers an SMS to let them know you're on WhatsApp.
To enable single-step easy opt-in messaging, you can attach links. Encourage them to participate by telling them that opting in means they will no longer get SMS blasts.
Email
Emails can be a terrific way to reach out to customers and give a thorough pitch, depending on your open rates. Explain why WhatsApp is a good channel for business-to-business communication.
To properly close the deal, use a newsletter, photos, and GIFS. Embed a form in the email to collect consent in a single step.
Use of social media
You can reach a large number of clients via social media channels such as Facebook, Twitter, and LinkedIn.
To get people to opt-in, use carousels or lead them to external links. Pinning your WhatsApp availability to the top of your social media feeds is a good idea.
This eliminates the need for your customers to voice their problems in public, instead resolving their issues over WhatsApp.
IVR-WhatsApp Business
Instead of leaving your customers on hold, port them to WhatsApp using your existing IVR system. The procedure makes use of your current infrastructure.
Simply ask your clients to input their phone numbers and confirm their agreement by pressing a certain key on their dial pad.
ATMs
ATMs are an underutilized tool for gathering opt-ins and announcing new feature launches. They satisfy all of the requirements and are intent-driven interactions.
Promote WhatsApp as a one-stop-shop for alerts, information, and customer assistance (document submission, etc).
Existing systems opt-ins
Consider recommending WhatsApp as an alternative to traditional system processes to clients. During the booking process, for example, an airline could prompt an opt-in.
The business might offer to send boarding passes, notifications, and updates directly to WhatsApp users.
Opt-ins for WhatsApp in-store
When it comes to opt-ins, companies with physical locations have a significant advantage over online-only businesses.
Interactions at the point of sale (POS) are a more efficient form of existing-system interactions.
Sections on how to contact us- WhatsApp Business Opt-Ins
Take it from someone who has used a lot of SaaS products: the "Contact Us" portions are the worst.
Instead than making customers wait hours and many email threads for a response, simply include a WhatsApp opt-in.
Wrap up
For WhatsApp Business opt-ins, use the methods listed above based on your requirements and preferences. Also, keep in mind that you need to raise your opt-in rates in order for whatever strategy you use to be effective.
Read More: How does WhatsApp Business API Solution Help The Insurance Industry: A complete guide