Voice AI: CIOs and other executives are under tremendous pressure to embrace and grow AI to create organization-wide efficiency and gain a competitive advantage.
They recognize that the inability to expand AI might impede their development and put them out of business in the future years.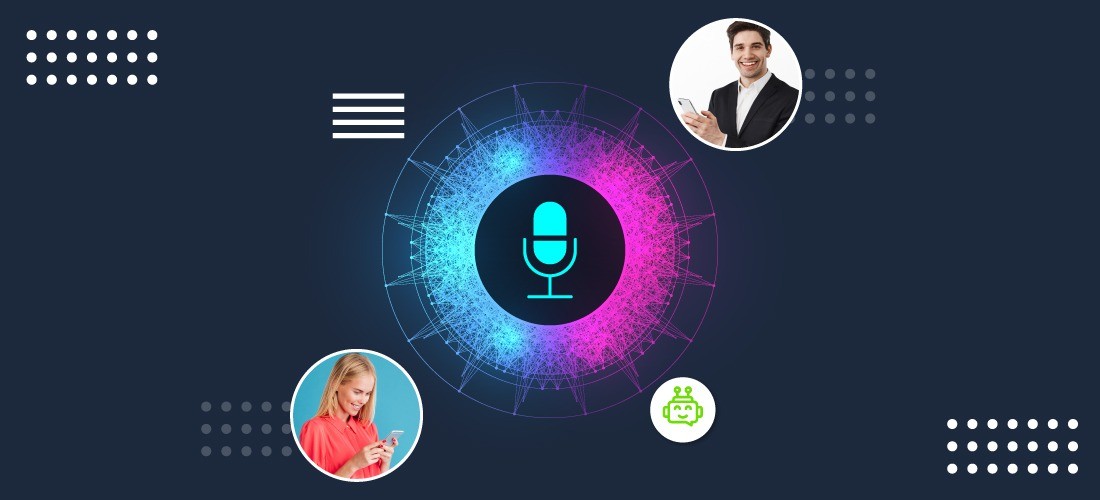 Despite the many desire to embrace and grow AI effectively, many companies are falling short.
According to a poll highlighted in Harvard Business Review, just 8 percent of the questioned organizations participate in strategies that encourage mainstream AI adoption.
Consequently, most firms simply test AI or deploy it for a few business operations.
Although AI pilots and single processes may deliver some tiny profits to the firm, they are nothing in contrast to the massive wins that AI has brought to breakaway enterprises, i.e., 8 percent of the studied businesses.
Firms need to keep the following critical points in mind to attain the same level of outcomes and effectively grow their AI capabilities at an enterprise level.
What is Conversational AI?- Voice AI
Conversational AI is increasingly crucial in offering outstanding customer support over the phone.
Voice assistants powered by conversational AI can now converse with consumers, in the same manner, your agents would, offering your customers access to 24/7 help.
Once you're ready to get started with conversational AI for speech, you'll discover that there are some different approaches to design, construct and deploy a voice assistant.
Some of these solutions look cost-effective initially but soon become excessively pricey. Others tend to meet hurdles that prohibit rollout or drive consumers to flee.
In this article, we've outlined the four primary techniques for implementing voice assistants and highlighted the distinctions between them to aid you in your road to installing a successful voice assistant.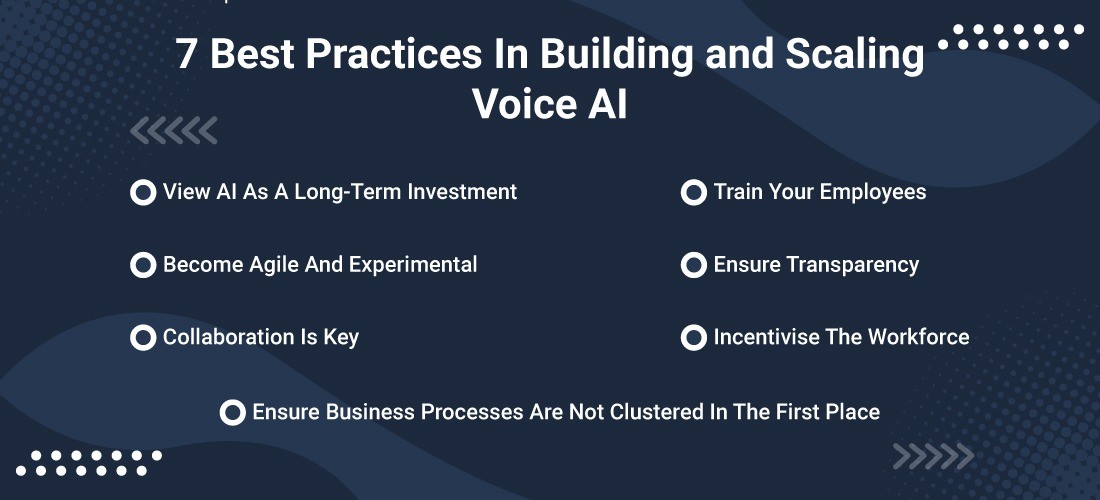 1. View AI As A Long-Term Investment- Voice AI
Since successful AI scaling takes time, perhaps even years, firms should know that doing it well doesn't imply doing it quickly.
They shouldn't rely primarily on immediate victories. Successfully growing AI entails doing it intentionally, with patience and tenacity.
It should be considered as an investment into a long-term strategic endeavor.
2. Become Agile And Experimental
Organizations should abandon the attitude that a fully completed concept or a powerful business product that checks all the boxes is required to get started with an AI endeavor. AI applications are seldom practical on the first try.
Businesses should know that inefficiently growing their AI capabilities and errors will likely arise.
However, these faults and limitations should be seen as sources of discovery, which would build a culture of creativity.
A test-and-learn approach would help the workforce be more equipped and motivated to tackle similar challenges in the future.
An agile strategy is essential to collect early customer input and solve minor faults before severe difficulties.
3. Collaboration Is Key
Effective AI scaling can be done solely by cooperation across cross-functional teams and departments.
The large-scale collaboration may bring various talents, ideas, and views, allowing enterprise-wide AI scalability, not simply segregated business challenges.
This is because the different firms are better positioned to examine the effect of AI on their operations and offer precise modifications to optimize their procedures.
Therefore, firms should create a culture of cooperation across all teams and departments.
4. Train Your Employees
AI scaling involves upskilling across all areas. Businesses should, therefore, establish in-house training programs for their workers for all the essential AI-related job responsibilities.
Furthermore, finding and maintaining the finest personnel is key to effective AI growth. Businesses should examine several approaches to recruit and retain their top employees, extending beyond monetary pay.
For instance, firms should have well-defined jobs and career routes. Some firms even offer dual-career pathways and rotating programs to increase staff skills and retention.
5. Ensure Transparency
Transparency is crucial for growing AI.
Making business outcomes given by AI accessible and explainable is essential to address stakeholders who want to know how AI developed its findings and ideas and regulatory authorities.
You may not completely describe the nitty-gritty of deep neural networks, but you should convey a primary degree of comprehension into how AI operates.
6. Incentivize The Workforce
A culture of acknowledgment and appreciation motivates workers to innovate. Leaders should deliberately focus on personnel who contributed to the success of an AI effort.
Creating new jobs for high achievers and granting promotions to those crucial in AI transformation are some additional excellent practices to implement.
7. Ensure Business Processes Are Not Clustered In The First Place- Voice AI
Most firms start their AI journey focusing on obtaining the correct data. And they're not wrong about it.
Several AI initiatives connected to machine learning and Robotic Process Automation (RPA) demand good quality data.
However, before concentrating on data concerns, firms should analyze if they have the correct business procedures in the first place. Most companies frequently skip this stage.
When firms first ensure they have the right business processes, handling data challenges strategically and arranging the information required for AI initiatives becomes simpler.
Conclusion
Voice AI: Many firms are striving to embrace AI in their operations. They know that AI can bring colossal ROI.
However, just 20 percent of AI-aware firms presently employ AI technology in critical business processes or at scale.
Therefore, before launching future pilots, it is advisable to stand back and adopt a comprehensive approach while keeping certain crucial aspects in mind.
Contact one of our team at Yugasa and AI experts for a customized consultation if you want to know more.
Read More: 7 Things to Think About Before Choosing a Conversational AI