Customer Journey Chatbot: Chatbots as your next virtual best friend It is not a big deal if you assume chatbots happened overnight. Till recently, even human-powered live chats were not considered efficient. It could not generate leads, conversions, or sales. But today it has become the most convenient purchasing journey feature with chatbots. The visitors of any website are liking to come face to face with a robotic chatbot.
We are living in today where chat systems are no longer considered a passive form of service. Chatbots are actively accepted both by the consumers and the companies. They are more cost-effective than human employees. Moreover, they are the always-on tools capable of interacting with numerous customers at the same time. They can work 24*7 without any human limitation.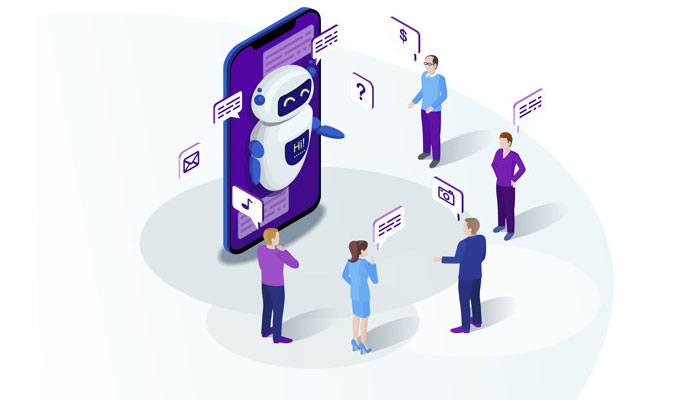 Ignoring a chatbot's benefits for your business is foolish. It enhances customer experience as well as sales. Moreover, with machine learning, it also betters the customer's experience journey through the marketing funnel. However, it might contradict the preferences of some of your customers. These customers prefer to call instead of chatting online because they want to talk to a real person. They are still a very small number, who do not believe in the capabilities of a machine to solve their problem.
However, this small fraction of customer distrust creates a bad image for the automated service. There are constant developments in the chatbot systems for better user understanding. They are being designed to establish better emotional connections with the user. Thus, there are possibilities where chatbots can excel in bringing an unmatched customer experience model to your organization.
Instant Troubleshooting and Feedback – Customer Journey Chatbot
Studies have proved that customers generally prefer a quick response instead of a completely accurate one. It makes them feel valued with quick interactions. It represents a company's responsibility towards its customers. This has been a reason for many companies to deploy chatbots. Chatbots are equipped with Natural Language Processing. They are capable of understanding the user's query quickly and give feedback instantaneously.
As said before, customers with more advanced queries favor human-to-human communication. Thus, when it comes to emotion and sentiment, more care should be taken with the customer experience model. However advanced the chatbots might become, there will always be a need for an efficient system.
Let the chatbots handle the password resets and conventional problems. And let your human team take care of the service complaints and feedback sessions.
Excellent administration at fractional costs
Studies have proved that customers do not prefer calling for minimal queries. Like, a customer won't prefer calling an agent between 9-5 to get the status of a delivery. This is where chatbots come into play. They ask a series of close-ended questions to understand the query. It then gives feedback within its capability. It also leaves the door open for a human assistant to solve the query if beyond its ability.
Reports by IBM have also shown that the efficiency and consistency of dealing with bulk customers give them an upper hand. Troubleshooting will also lead the chatbots to to save businesses around $8 Billion by the year 2022. A drastic increase in the $20 million saved in 2017.
Availability of communication at anti-social times – Customer Journey Chatbot
Chatbots provide cost-effective service alternatives during all the difficult times. Especially, during a pandemic like this, chatbots have come to save the day. For many ISPs, grocery providers, shopper-chains, etc. have been able to continue their services because of the chatbots. They can even serve the need even at awkward times at night or at the weekends. Any odd time when human assistance on a problem is absent. Installing a chatbot, thus, ensures efficient around-the-clock service.
High Adaptability
Chatbots ensure sharp and quick adaptability to your customer experience. They are not limited to minimal problems like password resets and providing answers out of the hour. They can also interpret users in multiple dialects and languages. They then adapt their responses and feedback accordingly.
They also understand a particular user with their previous choices. As AI and machine learning is being employed, sentiment analysis gets better with time.
Maximized engagement opportunities
Businesses are adopting more and more chatbots that make their presence known to customers. With such a consistent and reliable service, it increases consumer trust drastically. It serves as the most cost-effective system to bridge the gap with your site visitors.
Moreover, this noticeable form of service increases engagement drastically and enhances the sales pitch.
Ability to comply with house styles and conventions
Your identity is your brand. Thus, it's important to withhold the consistency of communication with the customers. Human agents use their personalities to establish bonds with customers. While chatbots can maintain a specific tone and lexicon as per your brand identity.
This is the most effective approach if your brand markets itself to specific demography. For example, a young buyer needs an advisor who is more friendly and fun. Whereas an old customer needs serious communication to be convinced of a purchase.
Read More: the blending of live chat and artificial intelligence chatbots
Concluding, we can say that chatbots are becoming a business necessity these days. 85% of the customer's interactions are dealt with by automated chatbots. They work efficiently in solving a problem without any direct human influence. This makes the chatbots a necessity for every business soon.