AI in Logistics: Supply chain management and logistics are frequently considered supplemental business tasks.
In fact, this is one of the most important functions that link the raw material supplier to the producer and the manufacturer to the final consumer.
In recent years, the use of chatbots has expanded. In contrast, inventory management and supply chain chatbots are still in their growing stage.
According to Statista, the worldwide chatbot market will grow to $1.25 billion by 2025, from $190.8 m
According to Statista, the worldwide chatbot market will grow to $1.25 billion by 2025, from $190.8 million in 2016
Conversational AI in logistics is a must-have even if competitive advantage isn't an issue. Before we get into the use cases, let's define conversational automation.
The advantages of conversational automation in logistics management- AI in Logistics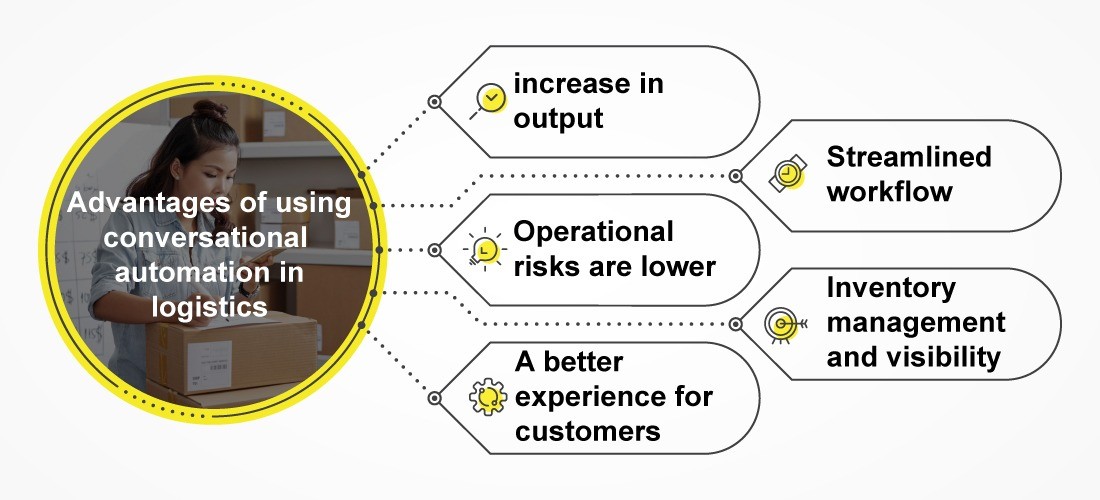 It's the use of artificial intelligence (AI) and natural language processing (NLP) to react to human questions as efficiently as possible.
This can be done by voice or chat. Conversational supply chain systems emphasize the use of automation to allow smooth management and eliminate errors
We'll look at the advantages of using conversational automation in logistics in the following sections.
1. An increase in output- AI in Logistics
First and foremost, the company's primary focus is ensuring that the completed product is delivered to the customer on time.
When logistics systems and inventory management chatbots are combined, it is possible to keep track of demand and supply requirements.
Repetitive processes such as updating CRM, organizing meetings, producing documents, and more can be automated using Conversational AI.
It can aid in increasing overall productivity by directing needs toward more important factors.
2. Operational risks are lower
The likelihood of operational risks is reduced when conversational systems are used in the supply chain.
As a result, operating costs are reduced overall. Streamlining repetitious procedures, billing, stock management, and delivery systems can help you prevent costly mistakes.
3. A better experience for customers- AI in Logistics
Conversational AI for logistics has several advantages, the most important of which is that it smoothly connects the customer and the company.
As a result of using Conversational AI for supply chain management, companies can offer 24*7 customer support.
Thus, improving the experience. Streamlining the repetitive processes, billing, stock management, and delivery system can avoid the lapses that could cause bigger slip-ups.
4. Streamlined workflow
By smoothing the discussion, the usage of conversational technologies in logistics management has enhanced the workflow between the users.
The automated communication method based on keywords, in particular, smoothes the workflow by effectively organizing, analyzing, and interpreting the entire data set.
5. Inventory management and visibility
Multiple inventories must be managed by a business. Everything must be properly addressed, from the raw material to the end product.
According to Zurich Insider, 63% of businesses still don't use technology or track supply chain performance.
Stock visibility, data tracking, and benchmark management are all improved when the supply chain is automated. It is possible to ensure that business processes run well by collecting inputs.
In logistics, there are several application cases for conversational AI
Conversational AI, as shown above, is the finest tool for all corporate areas, providing increased productivity and profitability.
Conversational systems are used in a variety of ways in logistics management. The following are the finest Conversational AI Chatbot application cases in logistics:
Inform new prospects of essential information. You can convert website visitors to loyal consumers by offering a consistent experience and nurturing them with proactive communications.
Multiple questions may occur, regardless of how well a firm is doing, necessitating the necessity for 24-hour support.
The organization can personalize responses to repetitive requests and respond accurately and swiftly by using Conversational AI for logistic customer service.
One of the most effective applications is the use of GPS for conversational systems in logistics management.
Essentially, it streamlines the process of tracking status and sharing that information with those who need to know.
Many sub-departments oversee various operations in the logistics and supply chain departments.
Conversational AI may connect users to the right person in the correct department to assist them with complicated questions.
This intelligent routing saves time and works for everyone involved. The use of a supply chain chatbot can be both cost-effective and profitable.
Customer satisfaction rises as a result of the natural dialogues, which opens up prospects for upselling and cross-selling.
Last but not least, an inventory management chatbot can provide stock availability alerts. Teams can interact internally to ensure a smooth flow of goods by tracking this information.
Integrating with the order management system will aid in the maintenance of the finest supply and demand connection possible.
Wrap up
In logistics management, conversational systems ensure a smooth workflow.
Finally, we'd want to conduct a survey to conclude this discussion. According to an Eyefortransport report, only 4% of companies use artificial intelligence in their supply chain, which is a low percentage.
AI in Logistics is becoming more popular as the demand for products grows and the need to expand reach grows.
In fact, focusing on decreasing errors and increasing efficiency is the need of the hour for every organization.
Amazon and Flipkart, for example, are completely focused on implementing technology aid to optimize that flow. Their customer satisfaction level reflects this.