To Create An Online Chatbot: On average, chatbots can manage roughly 70% of all discussions from start to finish without the need for human intervention.
What's more, chatbots are available and active 24 hours a day, seven days a week.
It's time to offer the customer what they want (fast and personal service) while also giving your website a fighting chance of satisfying the expectations of your website visitors.
Let's make a chatbot together!
Determine which sort of chatbot is most appropriate for your company
Before you begin building your chatbot, you must first determine what form of chatbot your company requires.
What will your chatbot's purpose be? Are you seeking to boost conversions and lead generation, or do you want to provide better service to your customers around the clock?
Chatbots for customer service enable you to give round-the-clock assistance by allowing your website visitors to self-serve and quickly discover answers to their inquiries.
It might assist your team focus on more complicated problems by reducing the quantity of incoming email customer communications.
Customer service is essential. Depending on their data, customers may also be directed to new services, and an offer can be extended based on your current campaign or client data.
Consider the following support to create an online chatbot
● At which stages throughout their trip do clients need the most significant assistance?
● How can you control these communication points when your chat is unavailable outside of business hours?
● What is the relationship between the bot and your live chat solution throughout online and offline hours?
Lead generating chatbots may help you enhance conversions and optimize your sales potential.
They can assist you in generating significant leads while maintaining a positive client experience.
These interactions between your lead-generating chatbot and your target audience provide you with information about your consumers' wants.
On sites with solid intent, lead-generating chatbots convert effectively. Post your bot on service or price sites as a chatbot best practice.
When it comes to lead-generating chatbots, you'll want to consider the bot's aim. Is it your intention to:
● People to be informed?
● How do you qualify and encourage visitors to engage in a sales conversation?
● Concentrating on the beginning of mini-conversions?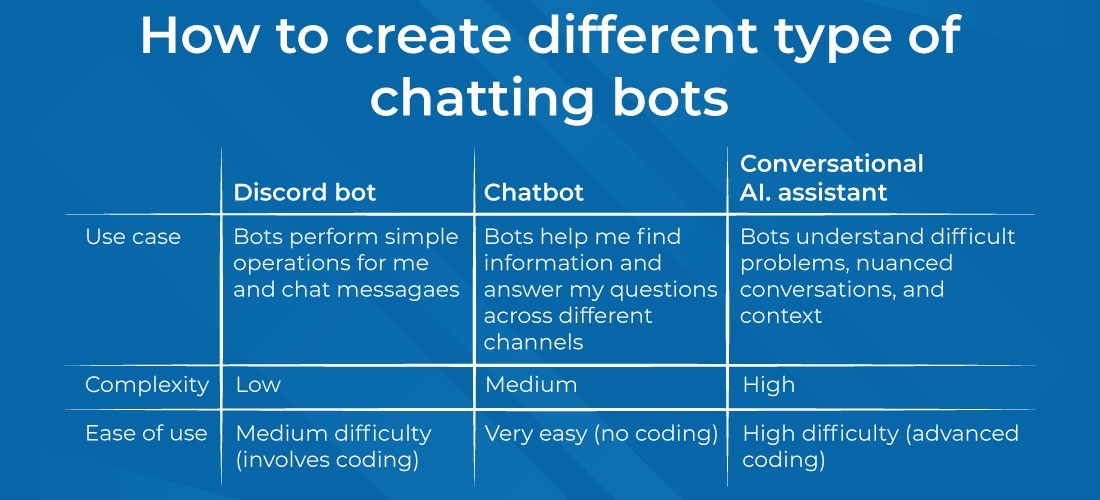 To Create An Online Chatbot – Establish Your Chatbot's Key Performance Indicators (KPIs)
Determining KPIs helps you assess your chatbot's efficiency based on the essential data elements.
This will keep you focused on what you want to accomplish with your chatbots.
You may use the following questions to help you define your chatbot KPIs:
● What will you use to determine if the chatbot is a success?
● What will you be measuring?
● What outcomes do you wish to monitor?
The purpose of the chatbot engagement, i.e. what action you want the user to do, will be reflected in your KPIs for the most part.
The amount of CTAs clicked, button or link clicks, forms filled, or completed online transactions made via the chatbot are examples of KPIs.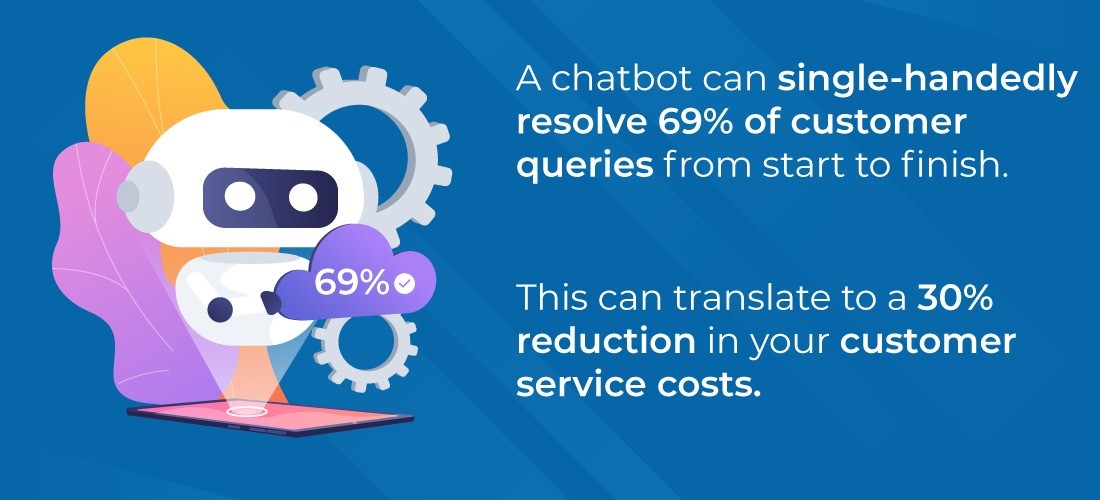 Recognize The Demands Of Chatbot Users
After you've established your goals, it's crucial to focus on connecting with your target audience.
Consider what the user's aim is when they first engage with the chatbot and how the chatbot assists that user to help create your chatbot user persona.
Try to summarize your user profile in a single phrase. You may add another brief statement to better define the chatbot's applications.
Here's an illustration:
A working professional goes to her energy provider's website on her PC during business hours to learn how to make her first payment.
She can know how to do it in minutes using the bot without disturbing her job.
You may talk with your team about ways to affect the user's choice and customer happiness after you understand these characteristics of the user persona.
Assign a personality to your chatbot
You may have fun building a chatbot personality now that you've defined your user persona.
Knowing your users will assist you in determining the tone of voice and language that your chatbot will use.
Consider your chatbot as a representation of your organization; you'll want to strike a balance between brand consistency and providing people with what they desire.
How can you give your chatbot a personality?
Consider including these personality qualities in your chatbot's design:
● Casual lingo, maybe even industrial jargon
● Emojis that are relevant to the brand
● To supplement the content, use inviting visuals or gifs.
● Image of a friendly avatar
● For your bot chatbot personality, come up with a unique name.
Create a conversation flow for your chatbot
You have all of the necessary parts in place to begin visualizing your chatbot's conversation flow.
Your chatbot interaction will be built around the conversation flow.
You should plan out your chatbot's flow by considering the queries that the user would want to have addressed by engaging with your bot.
Consider this dialogue as a decision tree. Make a diagram with as many message alternatives as possible using post-it notes or a computer.
Choose your multiple-choice answer choices that will take the user to the following question or desired page after you've finalized your primary opening messages.
Finally, ensure that the chatbot conversation flow is consistent with your company's brand and serves a clear function in guiding the user.
Create your bot
Now it's time to get your hands filthy, or at least as dirty as they'll get when constructing your first chatbot.
You can now start developing your bot and putting your strategy into action!
When creating a chatbot with a built-in design platform, you may make a bot from scratch using drag-and-drop pieces or a bot template.
When it comes to building your chatbot, the following should be your top priorities:
● Create or change your views.
● Colours and fonts may be changed.
● Set up the actions for your buttons and elements.
● Set your objectives while creating a chatbot.
Test And Preview
Let's see whether your tireless bot-building efforts have paid off.
You should preview and test your bot before releasing it to the public.
You should try out all conceivable permutations of your chatbot flow while previewing it.
This entails testing each button or input option and following that route to the conclusion to ensure no glitches.
There are various combinations of buttons and pathways to take, but each is worth trying.
It's also crucial to see how your chatbot will seem on various devices and alter the looks appropriately.
Make Your Chatbots More Specific
So far, we've discussed who (your firm + website visitors), what (chatbots), where (on your website), and why (to advise visitors), but not when and how.
Setting up your chatbot's target rules will help you answer the when and how questions in the formula for creating a chatbot.
Do you need some suggestions for chatbot targeting possibilities for your website?
Take a handful of these ideas and use them as inspiration for your chatbot triggers:
● Which page the visitor is on, and where they came from, such as the previous page, campaign URL, or traffic source.
● The visitor's geographical location.
● What kind of equipment are they using? (desktop, mobile or tablet)
● How many times they've visited your website.
Your bots will be better about who they target and which automated message to deliver after you've determined your chatbot targeting guidelines.
Evaluate And Improve
Remember when you determined your KPIs in the second step? Now that it's up and running, it's time to start tracking your bot's performance.
This will assist you in optimizing your content and continually improving your chatbot's outcomes.
Not only is it critical to measure quantifiable outcomes that have a direct influence on your company, but it's also helpful to collect user feedback on bot performance:
● What do your chatbot's users think of it?
● Are they happy with the service they receive?
● Are they making the most of the tool?
Start developing your chatbot right now! Are you ready to put these methods to the test and create your bot?
Contact our team at HelloYubo for assistance.
Read More: 5 Awesome Features To Create a Great Website Chatbot