Chatbot Trends: Chatbots have gone a long way since their inception. Today's chatbots are significantly more sophisticated, thanks to recent breakthroughs in the CX automation business.
They are based on strong capabilities such as artificial intelligence (AI), machine learning (ML), natural language processing (NLP), and sentiment analysis, allowing them to communicate in a more human-like manner.
There's no denying that they're becoming a vital resource for organizations all over the world looking to give exceptional customer service.
It's easy to see why corporations are so enthused about chatbots. They can expand their customer service efforts without increasing their operating expenditures.
But why are customers so enthusiastic about it?
Customers nowadays don't have the time to wait on hold to speak with a customer service person.
They're looking for answers, and they're looking for them immediately. When it comes to customer service, 90 percent of customers consider an "instant" response to be critical or extremely vital.
Chatbots give customers the ability to communicate with businesses in real-time and receive immediate answers to their questions, making them the fastest-growing brand communication channel.
What will the status of chatbots be in 2022?- Chatbot Trends
Chatbots are now widely used in a variety of industries, including insurance, finance, healthcare, eCommerce, retail, and more, as of 2021.
Chatbots will likely pervade the workplace in 2022 to improve the employee experience.
According to reports, 70% of white-collar workers will use conversational bots to speed up their job by 2022.
An employee could now find information with simply a voice or text command, rather than having to sift through tens of pages.
Doesn't it sound enthralling? Let's have a look at some additional stats and market forecasts for chatbots in the future year.
Key stats on chatbots
By 2026, the worldwide chatbot market is expected to grow from USD 2.9 billion in 2020 to USD 10.5 billion.
During the anticipated period, 2020 to 2025, it is expected to increase at a 23.5 percent CAGR.
You might be wondering what is causing such rapid growth. Why are chatbots, which historically had a terrible name for providing ineffective or impersonal customer support, now becoming so popular?
As I previously stated, today's chatbots are supported by cutting-edge technologies. By detecting consumers' needs, interests, and personalities, they are aimed to engage them in more personable interactions.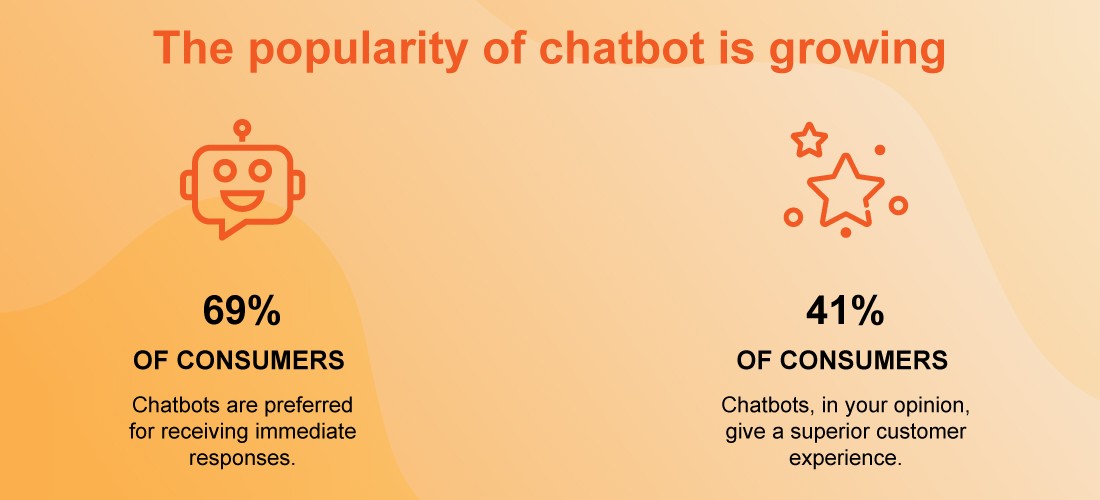 According to recent data, 69 percent of consumers prefer to communicate with brands using chatbots rather than email or phone.
This expansion can also be linked to the increased use of instant messaging apps and voice assistants, as well as the necessity to automate customer service functions in order to improve operational efficiency and lower costs.
Chatbots are expected to save more than $8 billion per year by 2022, according to estimates.
Keep an eye on these chatbot trends
Despite the fact that chatbots are gaining popularity currently, especially in the wake of the pandemic, they've been around for most of our lives.
Chatbots have progressed significantly from Eliza to Alexa.
Chatbots are, without a doubt, the future. Let's take a look at some of the trends that will impact chatbots in 2022.
1. Chatbots will have a more human-like quality to them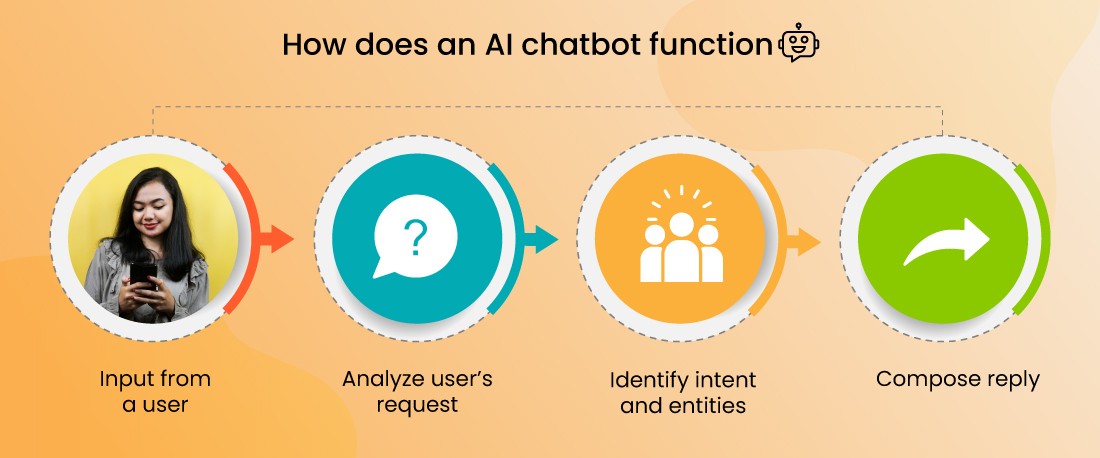 Customers value speed, convenience, helpful, and courteous service the most, according to PwC statistics, and are prepared to pay up to a 16 percent premium for businesses that can provide it.
In the meantime, after only one terrible service experience, 35% of customers will seek out the competitors.
Chatbots must be more understanding and capable of human-like interactions in order to ensure that customers get what they desire.
Chatbots will be able to produce more natural dialogues than ever before thanks to cutting-edge NLP algorithms.
2. There will be more voice-enabled products on the market
The Ascension of Voice AI is unquestionably a trend to keep an eye on. The way we shop has been transformed by voice recognition.
Virtual assistants like Alexa, Google Assistant, and Siri are already a part of our everyday life.
3. Chatbots will be used by businesses for predictive analytics- Chatbot Trends
In customer service, predictive analytics is the application of statistics and data modeling techniques to forecast future consumer behavior and trends.
The chatbot creates systemic records of data, measurements, preferences, and trends as it interacts directly with the end client, which it then uses to give intelligent and sympathetic responses.
4. Chatbots will be used to make more payments
Chatbots have been used to answer customer questions and collect data for quite some time now.
It's past time for chatbots to go beyond customer support and immediately affect your revenue.
5. Chatbots will assist in re-engaging customers after a sale has been made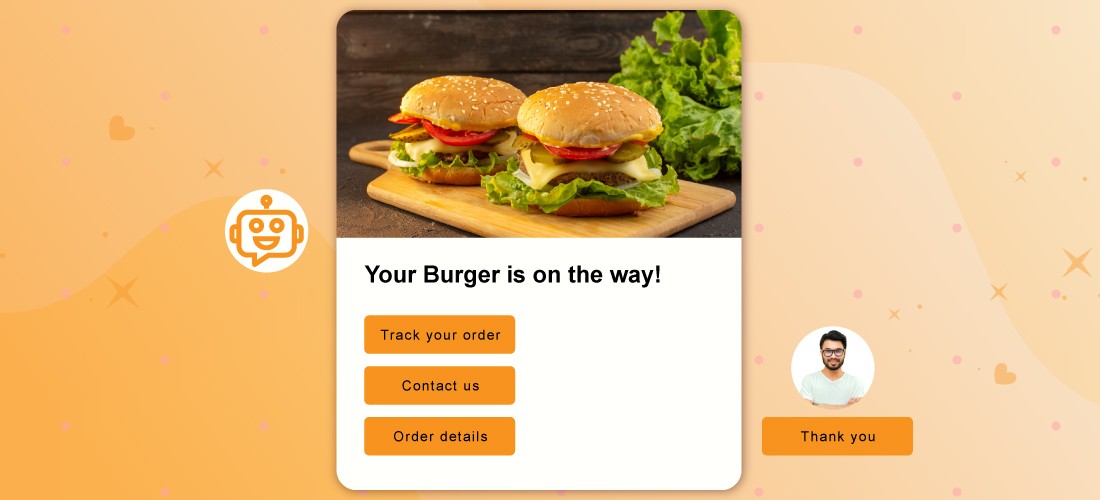 Chatbots can be used indefinitely until a customer completes a transaction. Chatbots can also be used to provide after-sales service.
Keeping consumers updated on the status of their orders by giving shipment and tracking updates is a good place to start.
Chatbots can also be used to gather client feedback. Before purchasing a product, more than 93 percent of customers read online reviews.
Companies frequently neglect to collect feedback, which is where chatbots may assist. Customers can be asked to review their experiences in a follow-up message sent by chatbots.
6. Chatbots will increase brand engagement on social media
More than 4 billion individuals will be using social media in 2021, which explains why businesses are deploying chatbots to supplement their social media presence.
According to research, over 100,000 bots are now being deployed on Facebook Messenger.
7. Chatbots will have a significant impact across a variety of industries
In 2022, chatbots in the healthcare and financial industries are expected to handle 75-90 percent of queries. Healthcare chatbots will get increasingly sophisticated.
During the pandemic, chatbots gained popularity in the healthcare profession and have since been utilized to analyze common health conditions and recommend a course of action to consumers.
Chatbots, on the other hand, are expected to assist with increasingly advanced healthcare diagnoses, such as mental health assessments, as the business progresses.
8. Chatbots will be a game-changer in terms of improving TX- Chatbot Trends
In today's competitive business environment, concentrating solely on customer experience is insufficient.
Companies must also consider how to improve their TX, or total experience, which may include automating internal corporate procedures.
Employees can use chatbots or personal assistants to automate repetitive work and eliminate redundancy in operations.
The key to a positive client experience is having productive and happy personnel.
To summarise
Chatbot Trends: It is safe to predict that 2022 will be a golden year for the chatbot business.
It is also expected to produce more customer-user experience-related jobs in the area, as well as open the door for greater innovation as the business grows. This is only the start!
Read More: Key Chatbot Statistics You Need to Follow in 2020