WhatsApp API: The use of mobile messaging, such as WhatsApp chatbots and Facebook Messenger, has made branding your business and attracting additional clients possible.
Smartphones have made it simple for e-commerce enterprises to sell various things and products straight to their clients, without the need for a middleman.
WhatsApp and Facebook Messenger are the most popular mobile messaging and chatting apps. In this post, we'll discuss WhatsApp for business and its significance in the e-commerce world.
Because WhatsApp is the most popular messaging app, its user base is incredibly active, with more than 2 billion active users dispersed over 180 countries (according to the February 2020 report).
Apart from one-to-one communication, WhatsApp is a fantastic alternative for group messaging. 
It's no surprise that more and more customer businesses are adopting WhatsApp as a way to connect with their consumers through a user-friendly and feature-rich chat.
That is why businesses are utilizing the WhatsApp platform to engage with customers.
API for WhatsApp Business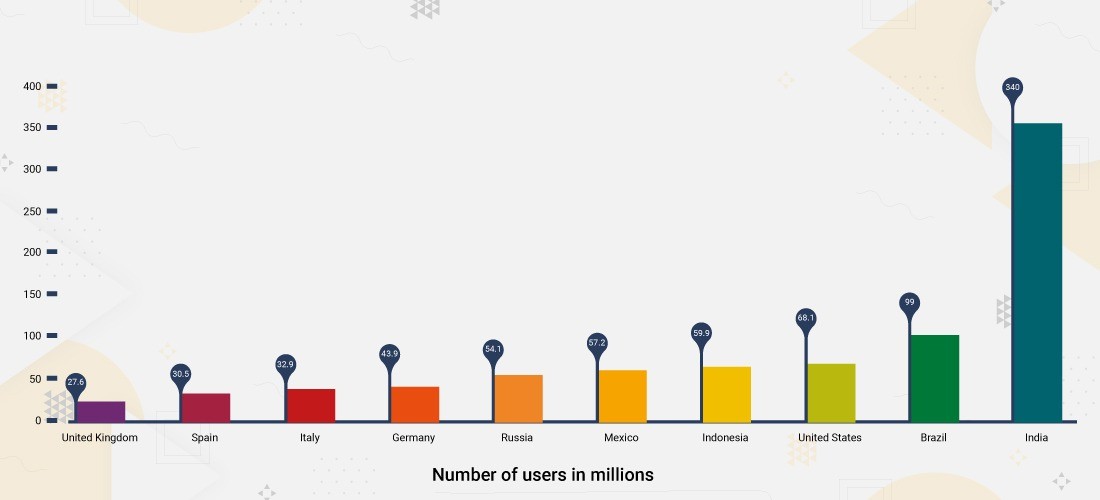 Despite the fact that WhatsApp is the most popular instant messaging software, it still needs to catch up to nations like the United States, Russia, Indonesia, the United Kingdom, Spain, and others where the messenger-based company is thriving.
WhatsApp Business API is for you if you want to build a large-scale worldwide business reach.
WhatsApp for Business, which was just introduced, was created with the goal of allowing small and large business marketers to expand their influence and reach consumers and users across all platforms.
The WhatsApp Business API was also introduced and designed by the firm to enable businesses to respond to consumer inquiries and provide extra information as requested by the user.
What is the WhatsApp Business API and how can I get it?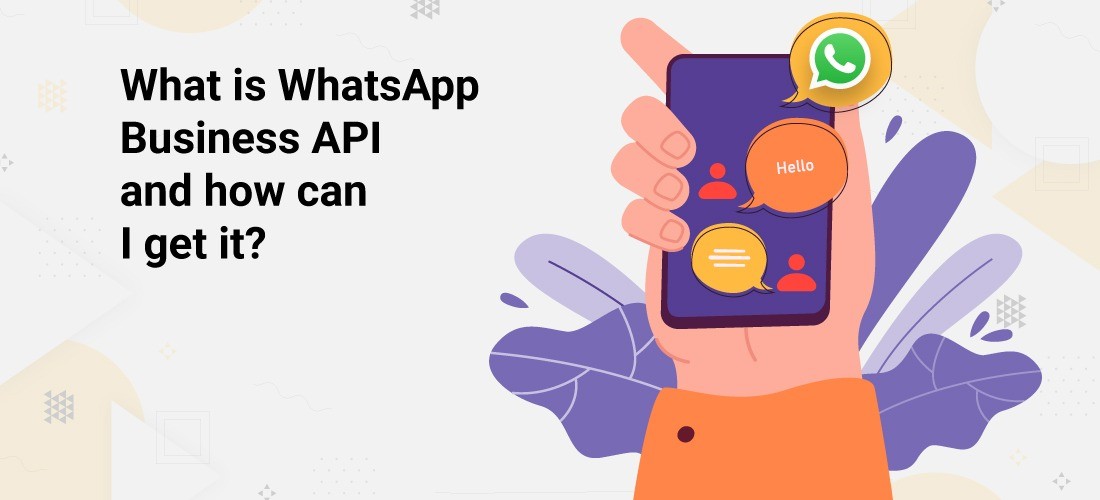 To begin using all of WhatsApp API's features and services, you, as a business owner, must first create a Whatsapp Business account and authenticate it, which may be done with the help of WhatsApp partners such as us.
Let us provide you with a comprehensive overview of all relevant information to assist you in obtaining your WhatsApp API in five simple steps.
A Facebook Company Manager account is required; if you don't already have one, you can create one by linking your business account.
Now you must send your documentation to your official WhatsApp partner to authenticate your Whatsapp Business account.
After successfully verifying the WhatsApp Business API, we are granted permission to deploy a verified WhatsApp chatbot template.
You can utilize your WhatsApp API once you've completed all of the procedures.
What Can a Company Do With WhatsApp for Business?
WhatsApp allows businesses to communicate with both present and potential consumers in a very simple manner.
By incorporating API into their online systems, every e-commerce business and online service intended to change its marketing and service model.
The WhatsApp Business API, unlike the chatting app, is not free. Companies interested in using this API can contact "WhatsApp Business Solution Suppliers," which are authorized third-party providers who can offer access to the API interface.
A firm can use WhatsApp Business API to perform several vital activities. Here are a few examples of how WhatsApp Business and its API have been used.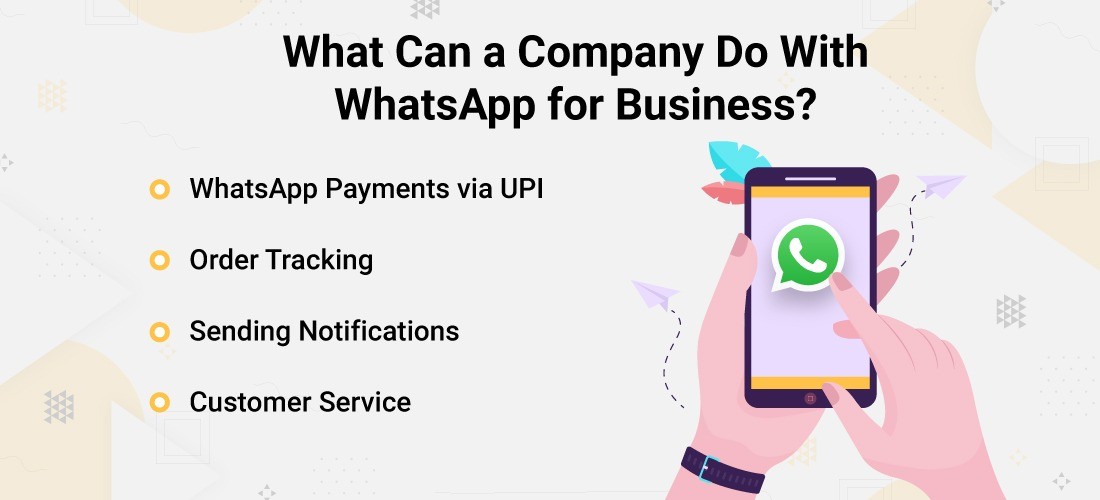 Businesses can create a graphical presence in WhatsApp Business by creating a profile, and integrating the API with online firm services can assist market the business.
When used with eCommerce platforms like Shopify, the WhatsApp Business API will allow customers to track orders, receive customer assistance, address questions, and provide rapid feedback.
All of these functionalities are protected by WhatsApp security (end-to-end encryption).
WhatsApp Payments via UPI:- Business API
This is a useful tool that, when linked to your online business, allows you to pay the bills of WhatsApp Business users while maintaining proper WhatsApp security.
Peer-to-peer payment, UPI-supported banks, direct debit/credit of money, and secured transactions with UPI PIN are all characteristics of WhatsApp payment utilizing UPI.
Order Tracking:
The WhatsApp Business API adds the ability to create live location sharing deliveries and order tracking.
As a result, client service is now automated. This method is useful in the food delivery and e-commerce industries.
Chatbots on WhatsApp allow for two-way communication. Businesses can utilize the WhatsApp Business API to communicate with their clients 24 hours a day, seven days a week.
Sending Notifications:
WhatsApp Business establishes a communication channel between customers and businesses, allowing business marketers to communicate with them.
When compared to other channels such as SMS and email, WhatsApp business alerts have a greater open rate.
These can be used for a variety of purposes, including alerts, payment status, things in stock, order monitoring, and meeting reminders.
Customer Service:
Customer support via WhatsApp chatbot is increasing in popularity, as clients prefer it. Customer involvement and experience have both improved dramatically as a result of this.
Users can communicate with the WhatsApp chatbot to settle any issues or questions, and if the issue cannot be resolved by AI-powered chatbots, real customer service specialists are always available.
Our agent assist dashboard, which uses Yugasa Messenger's in-house researched and built natural language processing engine, assists the agent by providing the whole chat transcript and recommending replies.
Conclusion
So far, we've learned that WhatsApp Business is a powerful tool for targeting the WhatsApp user base and that it can help a modern online business expand its reach.
Customer-rich businesses have onsite chat, order updates, delivery tracking, tailored suggestions, rapid feedback, and other services all under one tent.
So, if you're looking to expand your customer service, WhatsApp API is the way to go.
Read More: WhatsApp Chatbot for Businesses: A Complete Guide