To capitalize on the popularity of WhatsApp, Facebook introduced two options for businesses: the WhatsApp Business app, designed for small businesses, and the WhatsApp Business API, aimed at medium to large corporations.
One of the main uses for these tools is to create WhatsApp chatbots for enhancing customer experience
Business owners have experienced great success with the use of chatbots on the well-known messaging platform.
Because WhatsApp chatbots give businesses previously unheard-of chances for client contact, they have improved the customer experience.
In addition to being reachable around the clock, they can now interact in a variety of languages and deliver notifications about orders and request updates.
This article will explore the importance of WhatsApp chatbots for enhancing customer experiences.
We will discuss why companies are opting to use them and the benefits they bring to the table. 
The justifications presented here show how and why you should use WhatsApp chatbots in your own company to improve customer experience.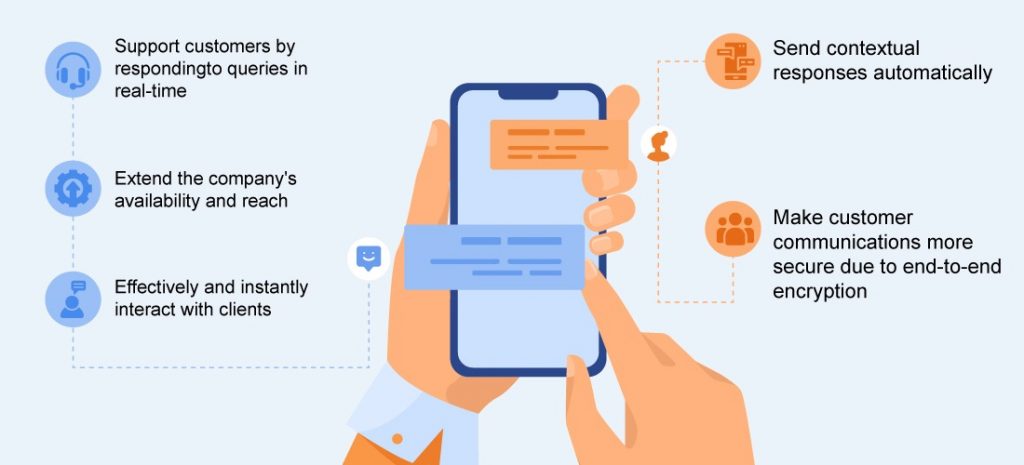 Importance of WhatsApp Chatbots for customer experience 
Customer experience can be significantly impacted by the use of WhatsApp chatbots.
WhatsApp has established itself as a vital component of many people's everyday life as an extremely popular and reliable messaging service.
It has also developed into a popular medium for business communication, with an astonishing 95% open rate.
Businesses should think about integrating WhatsApp chatbots for customer experience strategy if they want to stay competitive. 
The essential advantages and features that WhatsApp chatbots can only provide to improve business performance are listed below.
● Reach a Wider Audience
WhatsApp is the most widely used messaging app, with a user base of over 2 billion.
This implies that businesses of all stripes can use WhatsApp to communicate with their target market, potentially raising consumer happiness and engagement levels.
Because they are present where their consumers are, businesses who use the WhatsApp Business API outperform their rivals in terms of customer engagement and satisfaction
● Professional Features
For businesses, the WhatsApp Business API has a number of great capabilities, such as message templates and update notifications. 
Businesses can specify parameters for messages to be automatically triggered and sent based on things like working hours, busy traffic, or agent availability.
Messages can also include multimedia, including photographs, documents, videos, and even the address of the business.
Businesses, however, are not permitted to send their customers enticing or promotional messages.
● Secure and GDPR Compliant Platform
The security of the WhatsApp platform is one of its most important benefits.
WhatsApp encrypts every message, making it difficult for fraud to take place.
The platform's success is mostly due to its high level of security.
Additionally, WhatsApp complies with GDPR, so companies cannot communicate with users without their consent or without first receiving a message from them.
Benefits of WhatsApp Chatbots for Customer Service 
● Instantly Respond to FAQs
Customers can receive automated, immediate solutions to frequently requested inquiries via WhatsApp chatbots.
For instance, a healthcare facility can program responses to queries regarding their address, contact information, business hours, online appointments, and other common queries.
Avoiding having to repeatedly respond to basic questions, can free up human agents.
● 24×7 Customer Engagement 
Businesses may interact with customers round-the-clock with WhatsApp chatbots.
Customers can still automatically get pre-approved message templates and interactive list messages after business hours.
Customers who send messages during these hours will receive a message notifying them of the business hours and the time the next available agent will be accessible if certain requirements are established for messages, such as sending an away message between 9 pm and 7 am.
● Streamline Appointment Scheduling 
WhatsApp chatbots can be used by businesses to streamline appointment booking.
Businesses may save time and give clients a seamless experience by automating appointment booking.
Chatbots allow customers to plan new appointments, reschedule existing ones, and even cancel them.
● Provide Personalized Recommendations 
Customers can receive tailored suggestions from WhatsApp chatbots based on their prior interactions and preferences.
Businesses may offer a more individualized experience to their clients, increasing customer happiness and engagement, by utilizing data and machine learning algorithms.
● Provide Real-time Updates 
Businesses can utilize WhatsApp chatbots to give clients up-to-the-minute information.
For instance, a food delivery service may tell consumers about the progress of their orders, the anticipated time of arrival, and even the identity of the driver.
● Facilitate Payments
Customers can buy products more easily by using WhatsApp chatbots to handle payments.
Customers can complete transactions without switching between apps or platforms by using WhatsApp chatbots to make payments.
Frequently Asked Questions 
What is a WhatsApp chatbot?
A chatbot for WhatsApp is a computer programme created to mimic human communication over the WhatsApp messaging service.
Artificial intelligence (AI) and natural language processing (NLP) are used by chatbots to understand and have a dialogue with users' messages.
A WhatsApp chatbot's main objective is to offer an automated customer care experience.
This enables businesses to rapidly and effectively address typical customer questions and support requests without requiring the presence of a human customer service person.
Can chatbots on WhatsApp replace live agents?
WhatsApp chatbots can answer frequently requested inquiries right away, but they can't completely take the role of human customer service representatives.
For more complicated questions and exchanges that call for empathy and human contact, human agents are still necessary.
Are chatbots on WhatsApp safe?
Chatbots on WhatsApp are safe, yes.
End-to-end encryption is used throughout the whole WhatsApp messaging process to protect user data and ensure privacy.
Final thoughts
By the end of this article, we hope you will have a clear idea of how your company can use WhatsApp chatbots to improve customer service and what benefits you may gain from investing in the channel.
Request a demo of Yugasabot with us if you want to learn more about WhatsApp Business API or if you're ready to employ a chatbot to automate conversational tasks and learn how you can enhance the client experience.
Read More: What are the most popular WhatsApp business API features?