IIIT Delhi AI COVID-19: Three organizations joined hands to present an AI algorithm to identify drugs from all available medicine which have the highest probability of success against COVID-19.
Together with the Institute of Postgraduate Medical Education and Research (IPGME&R), Kolkata, and the Inria Saclay-Île-de-France Research Centre, France, the Delhi-based Indraprastha Institute of Information Technology (IIIT) has worked on an Artificial Intelligence ( AI) algorithm that can help quicken the search for COVID-19 diagnosis. The AI model will work on repositioning the COVID-19 drug by looking for a medication with the highest likelihood of efficacy against the COVID-19 virus.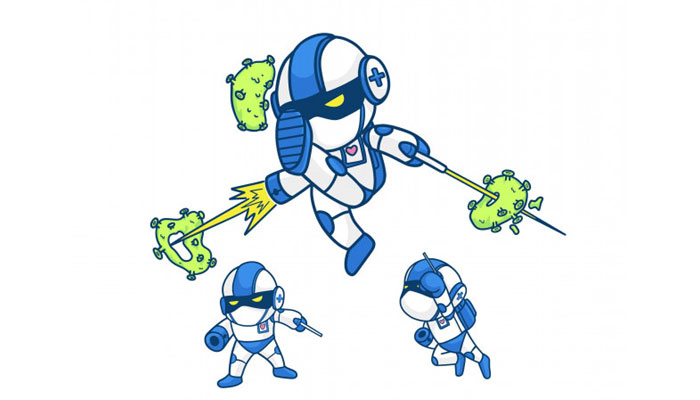 Such work would have normally taken months, if not years if the researchers had attempted to do so manually. Around the same time, it will also take time to look for a new product, as every potential medication will be evaluated in several trials before it is approved by national and foreign agencies. Likewise, the discovery of a COVID-19 vaccine seems to be at least one or two years away too.
Under such a situation, the only appropriate option appears to be repurposing available drugs for the disease. Drugs such as Hydroxychloroquine (HCQ), Dexamethasone, Remdesivir, Avifavir / Favipiravir, etc., have been reposited for COVID-19 in recent past. The other drugs which are on trial include Ribavirin, Umifenovir, Sofosbuvir, and several antiretrovirals.
Read More: benefits and risks of chatbots in healthcare
The AI algorithm generated by the trio prune through a drug database called drugback.ca which lists more than 100 approved antivirals. The AI algorithm should adopt the predictive approach of the drug-target interface (DTI) on this list to find out which drug, originally intended for a different illness, can be repurposed to treat a certain illness.
The AI algorithm first identifies similarities between existing virus genomic structures and the novel coronavirus and then calculates the similarities between drug chemical structures. For the next step, the algorithm must examine the historical information concerning the drug 's effectiveness on various viruses. Based on this information, it will select drugs that have been effective in treating viruses with a genomic structure similar to the novel coronavirus.
That kind of deductions worked in the past. The medication Imatinib mesylate, for example, was originally discovered for leukaemia treatment but was also proved effective in the treatment of gastrointestinal stromal tumours.
For doctors and epidemiologists, one constant challenge is that the novel Coronavirus is constantly mutating at a rapid pace. Drugs that were effective on the novel coronavirus strain in December 2019, for example, are very different from those that were effective on the strain in June 2020. Thus, AI algorithms such as the one developed by IIIT-Delhi will help professionals develop drugs based on virus evolution.