Facebook Chatbot: One of the fastest-growing and most productive methods for businesses to communicate with clients is through Facebook Messenger chatbots.
Chatbots are the newest, easiest, and most efficient ways for businesses to engage with clients via social media and websites.
Chatbots, as everyone knows, are the future of the customer service sector.
Conversational AI and human intelligence have come together to serve clients in the form of chatbots.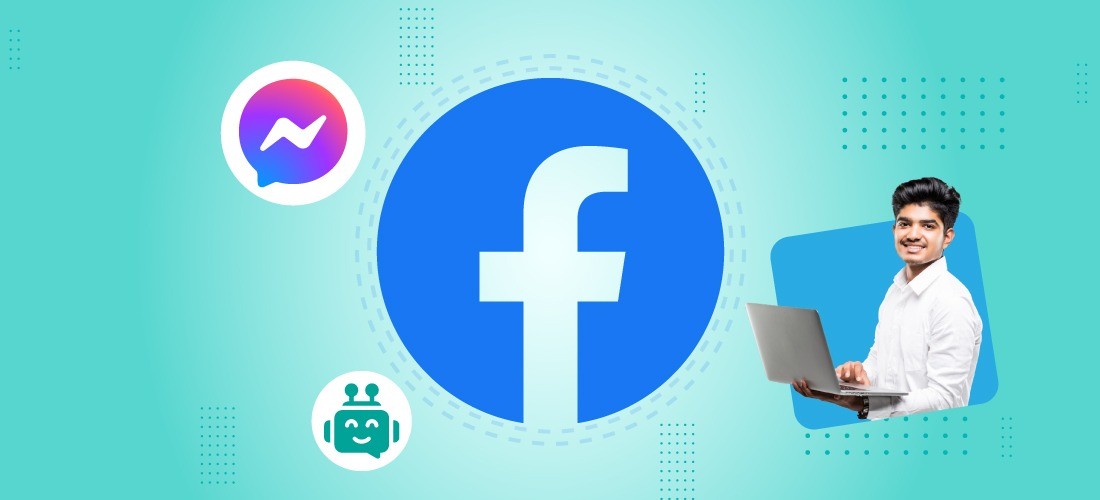 While most businesses are using social media sites to engage with customers, those who use chatbots on those platforms have the opportunity to improve their customer experience.
That's why it's critical to understand how a Facebook chatbot is created, the best practices your company should follow for a Facebook Messenger chatbot to work, and the benefits you can get from a good Facebook chatbot builder, among other things. In our essay, we go over all of this and more.
What is the concept of a Facebook chatbot?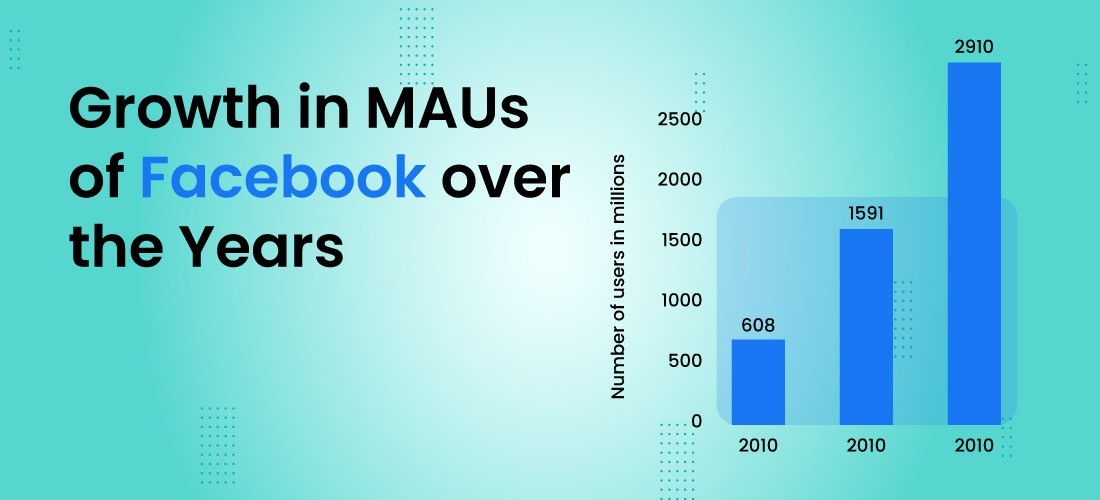 On Facebook Messenger, a Facebook chatbot is an AI-powered conversational tool that lets businesses reach out to, connect with, sell to, and assist their consumers.
Social media is the most essential invention of the twenty-first century.
It provides a platform for millions of people all around the world to connect. It has given social relationships a new dimension.
An overview of Facebook's history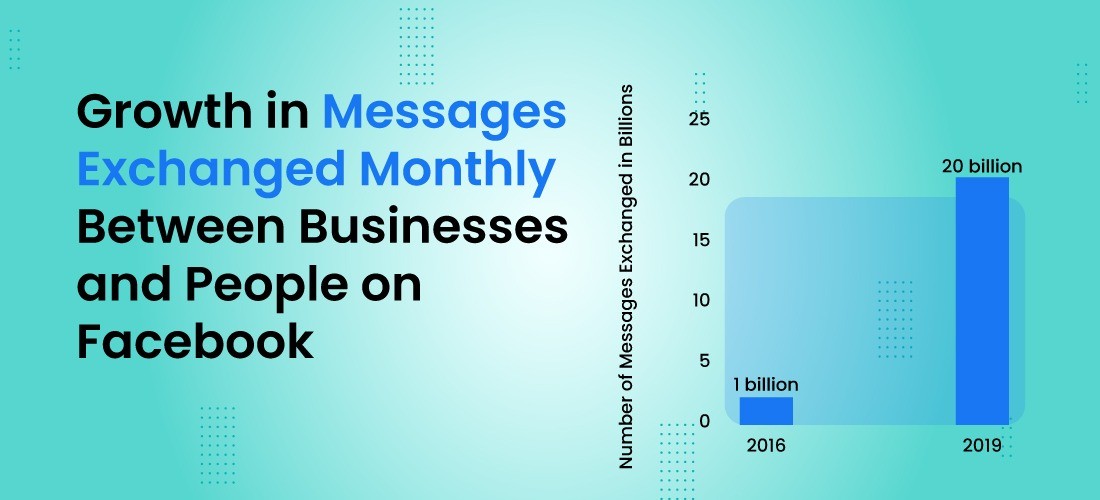 Facebook is one of the best social networking platforms for staying in touch with friends and family around the world and sharing photos, news, videos, and other information.
Not only that, but Facebook has evolved into one of the best platforms for growing businesses to display their goods and services and build a consumer base.
Facebook began as a platform for students to connect when it was founded by Mark Zuckerberg in 2004. 1200 undergraduates joined up within the first 24 hours of the program's inception.
This was a big success, with rising numbers of Harvard, Yale, Columbia, and Stanford students signing up.
Here are some of the characteristics that set your Facebook Messenger chatbot apart from the rest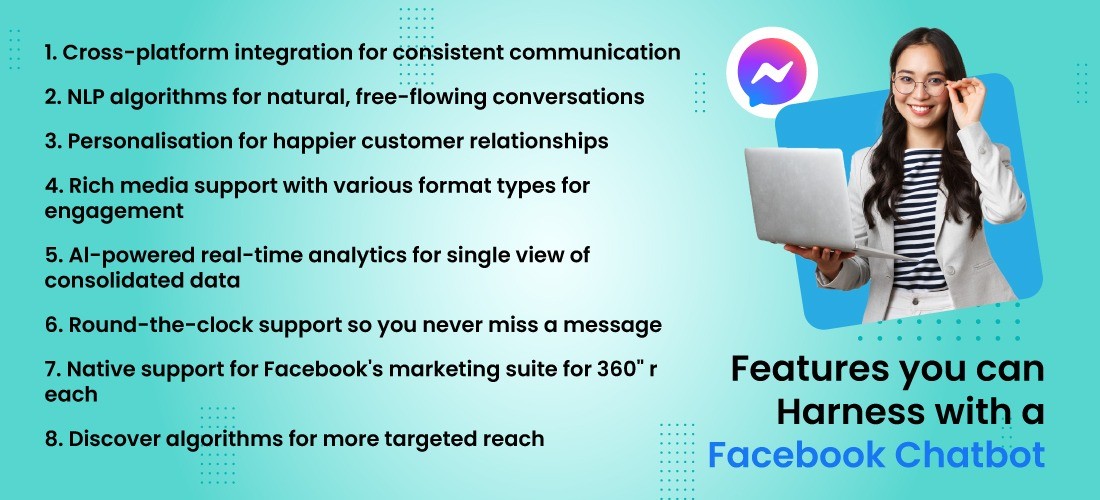 Integration across platforms for a broader, more concentrated reach
People appreciate the simplicity of being able to contact brands via their preferred social media site. Some people use
Facebook but not Instagram, and the other way around. This difficulty is solved by Facebook, which allows businesses to engage with users on both Instagram and Messenger.
The combined user base of Messenger and Instagram is several billion people.
Thanks to NLP, there will be no more robot-speak!
Not disregarding empathy and understanding the aim is one of the most crucial aspects of Facebook chatbot development.
When most people think about robots, they imagine a tin-made humanoid that speaks in a robotic tone.
The future of AI, on the other hand, is conversational and sounds a lot like us.
Conversational AI-enabled Facebook chatbots can help you communicate with thousands of people while being empathic and polite, just like a real person.
Customer satisfaction can be improved by personalising every conversation

When you enter a high-end store, customer service is a primary priority. This is accomplished by tailoring the shopping experience to your preferences and style.
This makes customers feel valued, and they are more likely to return to the store and refer their friends and family.
However, before now, there wasn't much you could do to customize your online purchasing experience.
You may personalize and modify every discussion with a Facebook chatbot to the demands of the users.
How to make a Facebook Messenger chatbot quickly and easily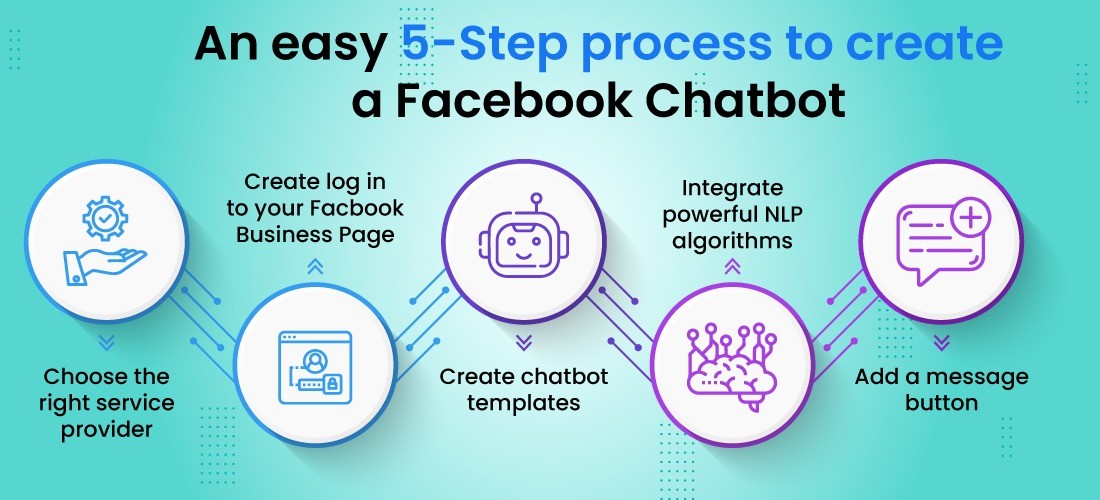 Selecting the Most Appropriate Service Provider Before you begin constructing your bot, you must first locate a reputable service provider who can assist you in deploying a comprehensive, conversational-AI bot that meets your company's objectives.
It's critical to pick the correct Facebook chatbot software.
Creating a Business Page on Facebook
Your chatbot will be housed on your Facebook Business Page, which is required. You have the option of creating a new page or logging into an existing one.
In the bot settings, you may now link your Facebook page. This is a critical stage.
creation of templates
For your AI to work properly, you'll need the necessary Facebook chatbot templates in place.
When you ask a question, the chatbot analyses it and selects the best appropriate template to respond with. These templates will be created and saved in this stage.
Adding a Button for Messages
The final stage in creating your process is to put it into action on your Facebook Business page. This can be accomplished simply by including a 'Contact Us' button on the page.
Final thoughts
Customers have become loyal as a result of the immediate connection that the Facebook Messenger chatbot provides.
Facebook Chatbots are growing in popularity due to their ease of use and ability to capitalize on potential leads. For more information, visit us now!
Read More: The Best Ways To Use A Facebook Messenger Chatbot To Grow Your Email List!