The use of chatbots in eCommerce has been around for a while.
And with justification.
They're tremendously helpful for users and online shops alike.
Customers want answers right away when they are having problems or have questions.
75% of online customers anticipate getting help within 5 minutes.
Nowadays, people buy things in between other things to do.
We aren't spending time shopping.
20% of online buyers acknowledged making purchases while using the restroom or driving.
43% of respondents admitted to conducting business while lounging in bed!
Do you truly believe that any of them will exercise the required patience to wait until they receive an email? No.
Now is the time they need answers, not tomorrow.
Chatbot in eCommerce – Functions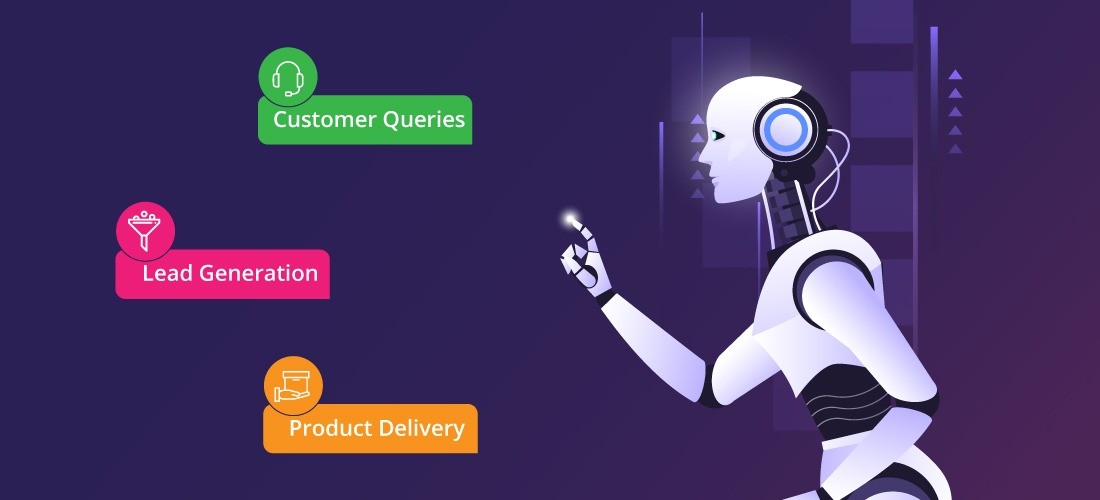 At this point, you might have responded, "Sure, I hear you; let's utilize a bot for my internet store."
Then questioned what you would even be able to achieve with the chatbot in your store. Fear not.
You could use a chatbot for the following purposes:
1) Finding products
A consumer in a hurry would want to obtain their desired item as quickly as feasible.
Allowing customers to submit a fast message about what they're looking for will save them from having to search your website, wait for the page to load, apply filters, and hope to locate their ideal product.
2) Sharing shipping information
Customers are interested in learning when their orders will be delivered.
To keep your consumers informed about the whereabouts of their orders, chatbots may have access to real-time data.
There is less likely that the consumer won't be home to collect the delivery because these updates are read much more frequently than email updates.
This can lower the cost you incur while rescheduling the delivery.
3) Customer service
The best use case for chatbots in e-commerce is this.
The task for which bots have been most frequently used is customer service. They are effective at this, after all.
When necessary, they give customers access to support.
Today's clients prefer interacting with robots to real people.
A chatbot instead of a real live agent is preferred by 60% of clients.
4) Sending offers
Emails generally don't have a very high open rate, as we've already established.
But how would your devoted clientele find out that you're having a deal, then?
This is where your chatbots that are installed on messaging services can start contributing.
A whopping 98% of Facebook Messenger campaigns are opened.
Customers would like to get your offers as instant messages because consumers now spend more time on messaging platforms than on social media.
How can Yugasabot help you in your e-commerce industry?

Allow Yugasabot to make it simple for you if you're interested in looking at chatbots as a potential solution.
Our platform enables you to create chatbots that are the most effective for your company without having to spend a tremendous amount of time and effort creating the bots.
We assist you in streamlining your procedures so that your bots can accomplish what you want them to do.
There are a few uses for chatbots listed below.
For customer support, chatbots are undoubtedly a fantastic tool.
They are not only useful for that, though. Here are a few fantastic examples of how to use chatbots in e-commerce to spark your imagination.
These should provide you with some suggestions for how to use your chatbot to its full potential.
1) Supply chain transparency
Sustainability is now a concern for consumers.
They have more than a simple interest in using a product.
They have developed an interest in the method and region of the product's sourcing.
Organizations have committed significant resources to maintain supply chain transparency.
A chatbot on your e-commerce website could inform customers about the product's sourcing and assure them about its sustainability.
2) Loyalty programs
Customer rewards accounts might be linked to chatbots, making it simpler for customers to obtain their reward points.
Even sending clients offers based on their preferences is possible with the bot.
By deploying the bot to offer clients gift coupons on their birthdays and other important occasions, you can genuinely make them feel appreciated.
3) Product life cycle offers
Some of the things you sell to customers require regular purchases.
And you know roughly when they'll need to accomplish that.
The problem is that they might choose to go to another seller if you just wait for them to come to you.
Your chatbot might remind them to restock their supplies at the precise moment when you know they will need to.
There is less possibility that consumers will go to another merchant because they can make a straight purchase through the chatbot.
They will be won over if you offer them a discount for using the bot to make their purchases.
4) Sales funnels
AI chatbots for e-commerce can determine where potential buyers are in the sales funnels based on information gathered during discussions.
Because of this, companies can choose the finest strategies for turning them into paying clients.
5) Testimonial generation
Your chatbot might contact the customer after the sale to get comments and reviews.
The user might be more likely to leave a positive review because the request is conversational.
These reviews can now be published as testimonials.
The customer wouldn't have to worry about exerting extra effort to write anything complex.
The process might be greatly simplified with just a brief statement and a photo.
Final thoughts
You're missing out on using chatbots in your online store if you haven't already.
With chatbots, you have a lot of potentials to improve your business's operations and potentially boost sales.
It's simpler to keep customers you get along with.
A chatbot could be one of the best investments you ever make for your company.
Read More: Whatsapp eCommerce Chatbots: A Complete Guide