Is Really Chatbots transforming the telecom industry?
The days of calling toll-free numbers for hours on end or sending lengthy emails to customer service offices are long gone.
Businesses must take the chance of keeping customers waiting since consumer attention spans are dwindling at an increasing rate.
The urgent requirement of the hour is something more speedy and efficient.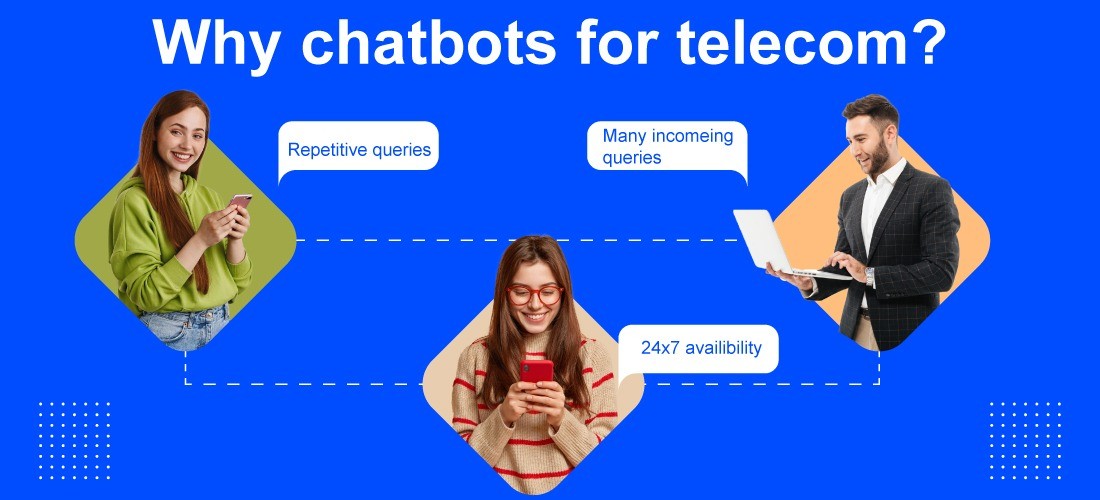 And that's where chatbots can save the day!
Chatbots have established themselves as the most affordable and effective method of enhancing your brand's customer experience when combined with artificial intelligence (AI) and natural language processing (NLP).
WHAT MAKES WHATSAPP CHATBOTS SO DEAR?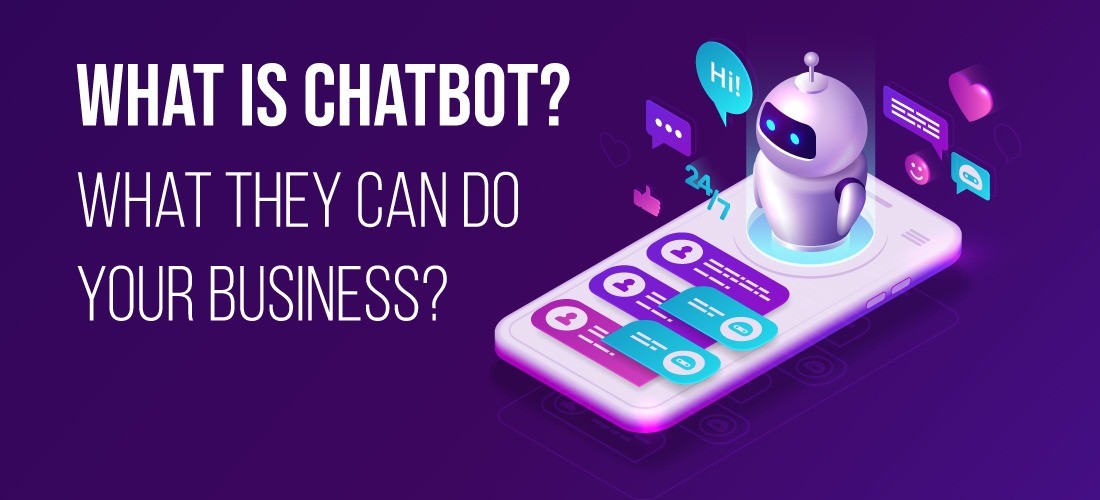 With 1.6 billion users across 180 countries, it is scarcely up for discussion why WhatsApp is the most popular alternative for businesses to connect with their clients.
WhatsApp has implemented intriguing features throughout time to make it profitable for both businesses and individuals.
Through the Whatsapp Business app, WhatsApp Business is available to small and medium-sized organizations, while the WhatsApp Business API is available to large-sized businesses.
Chatbots transforming the telecom industry – Benefits of WhatsApp Chatbot for the telecom Sector

Enhanced Customer Experience
Whether or not a sale is achieved depends on the customer experience.
Better customer service directly enhances sales numbers and raises the likelihood that customers will make more purchases.
The icing on the cake is that it also results in greater feedback for your company.
Reduced Wait Time
Using Whatsapp chatbots, you can engage clients at any time using their preferred method of contact and work to improve their experience without having to make them wait.
Thanks to artificial intelligence (AI), bots can customize their responses based on the customer's answers and account history, among other considerations.
Cost Savings for Business
Your organization will incur significant costs if you employ people around the clock to respond to consumer inquiries.
The expense of maintaining support services is astronomical in sectors like telecom that frequently have large customer bases.
Conversely, WhatsApp chatbots for telecommunications are more affordable and offer a better rate of return on investment.
Even though they may not be able to replace humans, chatbots are unquestionably a wiser choice for early consumer contacts.
Scalability and Flexibility
WhatsApp's chatbot for telecommunications is made to be very versatile.
Chatbots can be customized to best represent your company, from straightforward elements like the appearance and feel of the bot to extremely complicated ones like its responses and the activities it will carry out.
Chatbots can handle a variety of issues and scale up to support your expanding customer base.
They can also handle a large volume of customer inquiries.
Getting Useful Information from Customer Behavior
Chatbots communicate with customers while also gathering crucial data for you, such as how long a customer spends looking at a product, the most frequent questions, and how they react to particular ideas.
These crucial pieces of knowledge and data can be tracked with AI to improve customer experience and increase sales.
Use cases for yugasabot in the telecom domain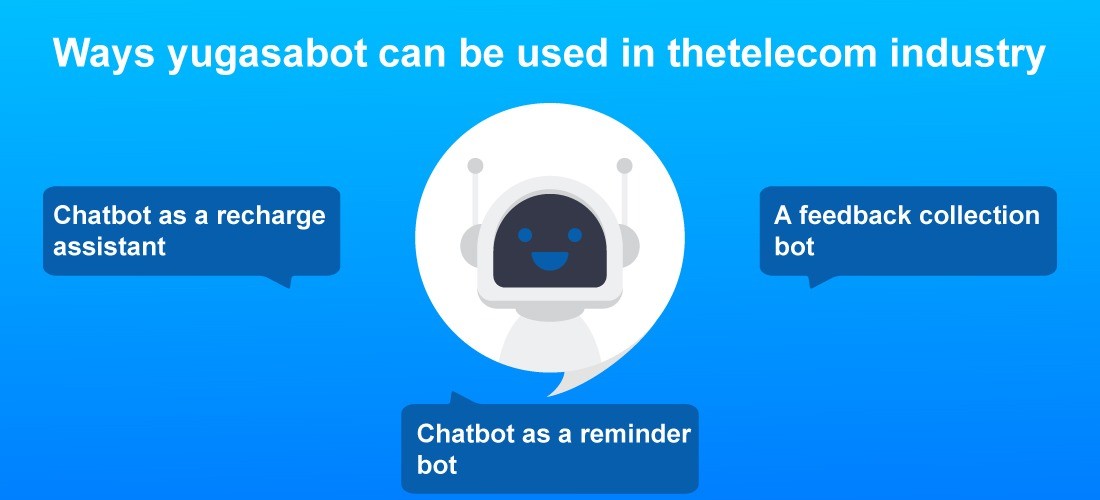 ● Customer engagement
Customers anticipate 24-hour accessibility from call centers.
Even while all telcos train and provide their call center representatives with the latest tools for client interaction, chatbots may answer thousands of consumer questions at once, giving the impression that customer care is available all day.
● Analyses that predict
Chatbots can forecast a customer's demands extremely accurately by combining machine learning and natural language processing (NLP).
For instance, when a call comes in, the chatbot can see what the consumer was doing five minutes before the conversation and foresee potential problems.
As a result, operators will be better equipped to learn more quickly and offer unique solutions based on predictive and behavioral analytics.
● Sales
Chatbots can be useful to sales teams because they are great for cross-selling.
A mobile operator might, for instance, start a dialogue with an existing customer to offer them a data package, a subscription to a partner service, or other products that are more suitable for their needs.
As an alternative, a chatbot could contribute to the sales process by producing leads for the sales staff.
● Collecting customer information
Telecom chatbots can start conversations to collect data. Chatbots can ask customers for the information telecom operators need to stay compliant in the face of constantly changing rules.
They can confirm information like a customer's address.
Because they enable businesses to connect with clients through their current channels, outbound chat interactions are especially effective.
● Technical assistance
In the past, telecom firms had trouble providing happy customers with service.
Customers already experience enough frustration when it comes to technical help, so it only makes sense to guarantee that their problems are treated swiftly and easily.
Additionally, there are considerable inefficiencies in the present paradigm because the majority of customer inquiries would probably call for the same, repetitive responses from a support worker.
How can Yugasabot help in the telecom industry?
In the telecom sector, a Yugasabot might be a useful asset to any company managing numerous consumer inquiries.
The impact of a chatbot installation would be felt by telecom firms with their sizable user bases in due time.
Yugasabot in telecom might be of varying complexity, features, scopes, or forms depending on the particular requirements.
Others may be native chatbots with sophisticated NLP and AI algorithms allowing the bot to recognize free speech and learn in the process.
Some may be rather simple Facebook or Telegram chatbots handling simple issues.
FAQs
How can chatbots improve customer experience?
Chatbots personalize user experiences by adapting the dialogue to the specific needs of the user.
How can chatbots enhance customer services?
Give your customers a simple way to engage with your business through stimulating conversation.
What is a chatbot and why is it important for customer experience?
A chatbot is a piece of software or a computer programme that mimics human conversation through voice or text exchanges.
Final thoughts
Additionally, the chatbot may be given a wider range of topics to cover. In the telecom industry, chatbots can be your customers' best friends.
While some businesses might only use them for technical support issues, there are other use cases where they can be.
Read More: How Artificial Intelligence Chatbots Are Transforming Businesses