The way we buy and sell items has changed as a result of the internet revolution in recent decades. 
Specifically, the eCommerce boom that ushered in internet retail.
The impact of technological advancements on retail, however, has had a far-reaching impact. 
Conversational AI is present throughout the value chain at a time when customers continuously want tailored offerings.
It is turning out to be a potent tool for merchants to use in order to align their products with changing consumer expectations.
Many brand leaders view it as a way to acquire a competitive advantage over their rivals.
As a result, to improve the consumer experience both online and offline, retail organizations are increasingly utilizing the potential of AI-driven data and developing retail chatbot technologies. 
Conversational AI is the sole customer-focused solution on which merchants are depending.
Why Is Conversational AI Important For Retail?

The success of customer support interactions depends on AI, which benefits both customers and support staff.
Additionally, AI in the retail sector will only expand. Retail sales from AI and chatbot communication will increase according to research.
Conversational AI can speed up customer service for support staff and support agents by streamlining processes, eliminating redundant work, and removing repetitive tasks for retail businesses.
Every single day, millions of transactions in the retail industry take place online, including orders, returns, tracking, reports of theft, and inquiries about previous purchases.
With the use of technology, all these encounters and interactions may be made significantly more seamless.
How Do Business Leverage Conversational AI in Retail?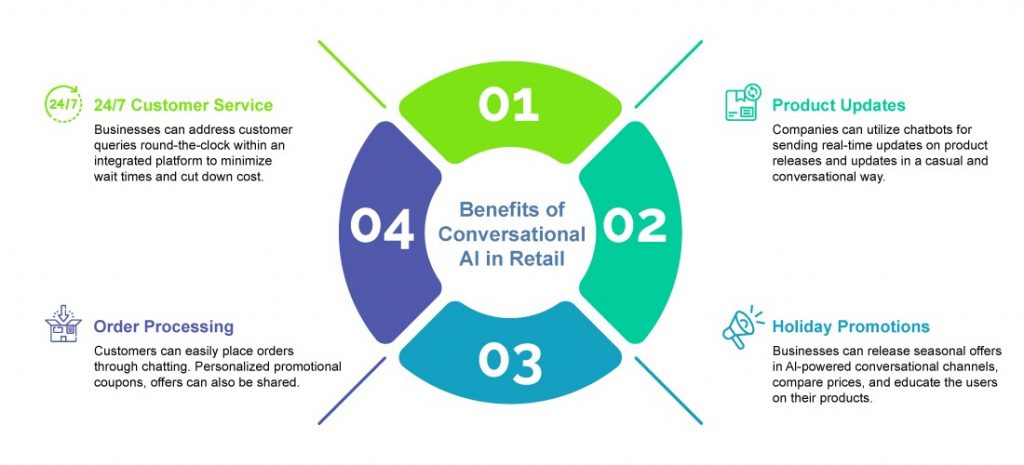 Companies can use conversational AI in retail in a variety of ways, and many of them include automating a process or interaction to save customers money during their buying process.
Your agents, who are in charge of facilitating those interactions, gain from automating processes and consumer interactions as well.
Here are a few examples of how companies are using AI in the retail sector.
24/7 Support
Geography and location are meaningless in the digital age we live in. No matter where you are in the world or what time of day it is—10 a.m. or 11 p.m.—people are shopping and looking for customer service at all times.
A 24/7 deployed staff, or something resembling one, is what retail enterprises now need.
It is best for a company to employ conversational AI to help block any tickets that may be sent outside of regular support hours if you are unable to actively have humans overseeing support duties throughout the night.
Save Money & Time
The potential of AI for retail businesses may be summed up quite simply. The fact that conversational AI saves millions of dollars and countless hours of labor each year makes it crucial. 
In addition to sparing mid-sized enterprises the expense of agent contacts that could be put to better use elsewhere, it has been estimated that chatbots help firms save more than $11 billion annually.
Customers have a highly satisfying experience and support workers are content since they know they are supported in their daily work when they feel empowered to do their duties and better serve customers with the resources offered to them.
Improves In-Store Experience
Conversational AI has the potential to significantly cut operating costs for retail establishments by automating in-store tasks.
It can assist sales staff in assisting consumers in the store, cut down on lines by using contactless payment options, refill stock through real-time stock monitoring, and enhance the entire shopping experience for customers.
According to a report, 73% of customers prefer self-service options during their purchase journey and anticipate a quicker checkout. 
This statistic should strongly encourage retailers to implement Conversational AI solutions.
Tracks Customer Behaviour
Additionally, conversational AI has the ability to identify your consumers' intentions, moods, and interests at every stage of the buying process.
For this purpose, some international retail chains have even implemented facial recognition technology at checkout lanes.
A store employee will speak with a customer right away if they are irate.
In order to comprehend the tone, context, and behavior of customers, retail chatbots also make use of the intent prediction capability. 
Offering individualized support throughout the conversational flow, aids merchants in developing closer relationships with customers.
Streamlines Operations
Digitally growing multi-channel retail has complicated in-store operations. 
Store clerks are no longer only responsible for receiving, stocking, and handling inventory.
They are responsible to tell customers about their products, monitoring promotional offers, and managing merchandising for them. 
Conversational AI may be efficiently used for such a beneficial job, saving your store agents a tonne of time so they can concentrate on more difficult tasks.
Simply said, clients always need a seamless purchasing process, and conversational AI chatbots in retail are stealing the show.
Frequently Asked Questions
How Are Chatbots Used In Retail?
In the retail sector, conversational AI-powered chatbots are being utilized to divert frequently asked queries and assist humans in handling more complex difficulties they encounter.
Chatbots can automate monotonous tasks, give agents more control, and aid companies in understanding their consumers better.
How is AI Used In Retail Stores?
The applications of AI in retail are numerous. Customers, salespeople, and the store as a whole benefit from it.
Customers may utilize AI to manage orders, make purchases, locate support, and request assistance if necessary.
Through the use of a technology that eliminates data redundancy and bottlenecks, retail agents gain from AI.
Agents can work more efficiently and with fewer handling delays thanks to AI.
Final Thoughts
Customers still prefer the social and experiential touchpoints provided by traditional retail, despite the convenience that online retail offers.
Retailers are increasingly depending on Conversational AI to provide the best possible customer experience wherever their items are bought and sold as they strive to provide their customers with the best of both worlds. 
As they integrate AI into their businesses, brand leaders must also improve their strategy.
They must be made aware that this is a technology that can have intelligent conversations and, over time, provide amazing results.
Setting a long-term AI objective is the first step.
Small projects should then be started, and these should be aligned with long-term objectives for the customer experience.
Read More: How Conversational AI In eCommerce Can Drive Sales