As an increasing number of individuals rely on online shopping for their daily necessities, it is evident that this trend is not going away anytime soon.
However, what does the future of online shopping entail?
How will technology and consumer behavior influence the way we shop online in the upcoming years?
In this article, we will delve into some of the most intriguing trends and forecasts for the future of online shopping.
A shopping bot is a type of communicative artificial intelligence (AI) system designed to help clients with their online shopping experience.
It is a software program that can replace human conversation through message or voice interactions and can comprehend and answer consumer questions and demands related to shopping.
Customers can get aid from a shopping chatbot in many different ways, such as by finding products, getting product recommendations, getting information about goods and services, processing orders, and getting customer support.
Shopping chatbots can also connect to e-commerce sites and payment processors, allowing customers to finish their transactions through the chatbot's interface.
In this blog, we will check a detailed guide on shopping chatbots.
Benefits of shopping chatbot – Future of Online Shopping
There are many benefits of using shopping chatbots for both users and companies.
Your clients want to talk to you
In a study of customer expectations, it was found that people are talking to brands before making purchases from them.
This particularly remains true now as the majority of our shopping has gone online, and there is a lack of touch and feel of a good or service before making a purchase.
Your non-availability during a particular hour can be misinterpreted as you not wanting to speak to customers, and only selling to them.
A chatbot assists you to speak to consumers at a time and place they choose, helping them in purchasing products or addressing their anxiety, showing them that your brand cares.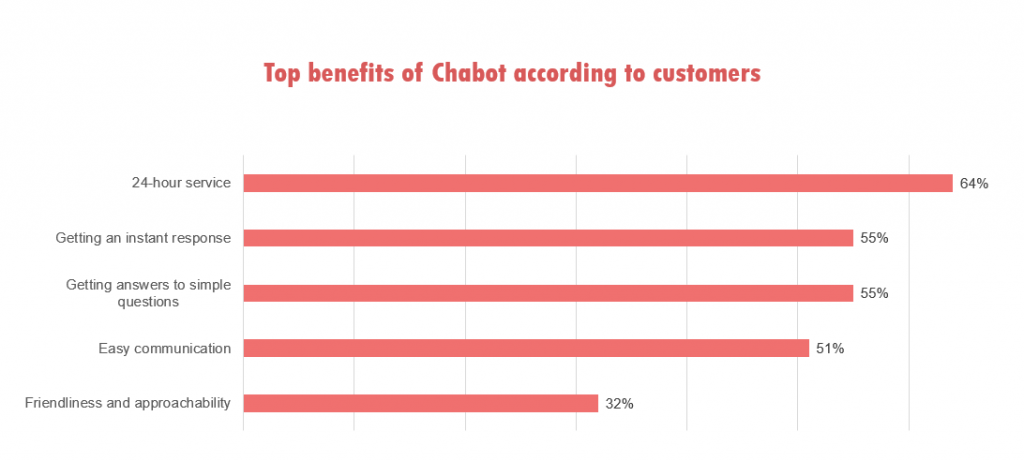 Your clients want immediate answers
How many times do you, as a customer, wait for a brand to react to a request in 24-48 hours?
Chances are, you'd step away and look for another shop to buy from that provides you with more data about what you're looking for or a person who can help you out with your purchasing.
82–90% of consumers, according to various surveys, expect firms to respond to questions about marketing, sales, and support right away.
It would be impossible to keep up if you had to "immediately" react to 100 inquiries from your website and social media channels.
E-commerce chatbots can assist in such scenarios.
You can't stay available 24/7
Another reason why businesses are slow at replying to customers is their non-availability.
Whether you are concentrating on launching a new product, outsourcing content, or looking for partners to market your brand, there are frequently many chores that can prevent you from having conversations.
Even if you have a staff of live agents on duty 24 hours a day to assist customers, even if they have limited availability.
In comparison, your clients' shopping habits are unexpected and can happen at any moment, even during off-hours.
Think about how often you might have bought something late at night.
You can always be available to respond to questions at any time by using a chatbot.
If the chatbot is unable to help the consumer, it can continue the conversation by posing more queries and gathering data for follow-up the next working day.
Your clients are present everywhere – Future of Online Shopping
Due to the pandemic, shoppers are increasingly turning to online retailers for their regular shopping.
The online market, however, is big and extensive in and of itself.
Offline channels are once again becoming a part of the buyer's journey as the world starts to return to normal.
In other words, you may find your clients all over the place.
They could contact you via your website, Facebook, Instagram, or even WhatsApp with queries.
G2 claims that the only way for e-commerce companies to keep up with customers' wants and fulfill those demands on a platform of their choosing is through multichannel sales.
The reason why firms are employing e-commerce chatbots is to avoid having to keep up with client dialogues across all of these channels.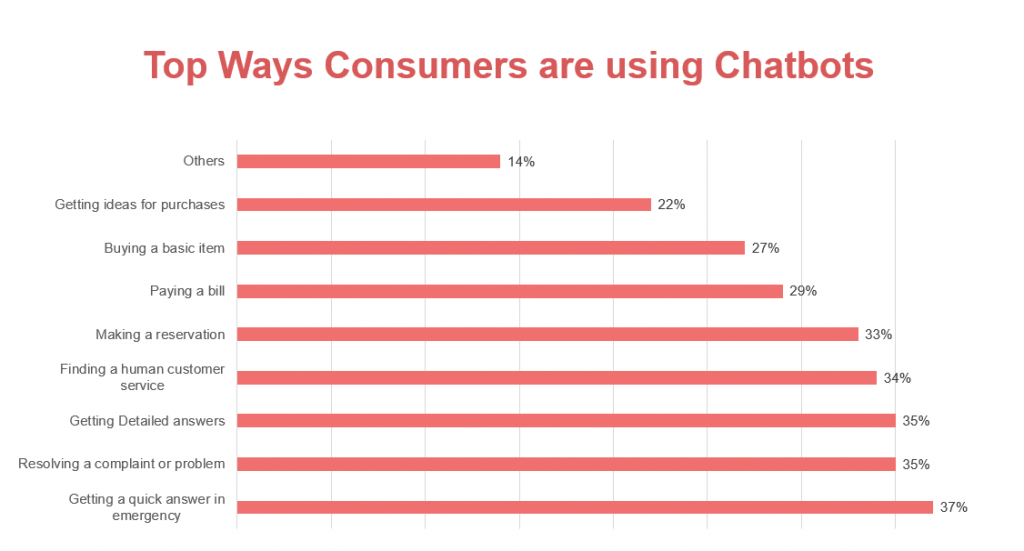 Challenges of using a shopping chatbot
While there are many advantages to adopting retail chatbots, businesses may run into some difficulties when putting them into practice.
Limited Contextual Understanding: Chatbots could find it difficult to comprehend the context of a customer's request, which could result in inaccurate or irrelevant responses. When addressing intricate or nuanced consumer inquiries, this can be very difficult.
Lack of Human Touch: It might be challenging to offer individualized and sympathetic care when using chatbots since they lack the emotional intelligence and empathy of human customer service professionals.
Technical Limitations: Chatbots may be limited in their ability to handle and understand natural language, resulting in misinterpretation or inability to understand certain customer inquiries.
Integration with Legacy Systems: Integrating chatbots with current legacy systems can be difficult and time-consuming. It also calls for substantial financial investment and technical know-how.
Updating and Maintenance: To keep chatbots current and functional, they need regular updating and maintenance. Businesses with few resources or technical experts may find this difficult.
Examples of successful chatbot shopping
Today's use of retail chatbots has many successful examples. Here are a few illustrations:
H&M's Kik chatbot: Customers may browse and buy products on H&M's Kik chatbot, get tailored style advice, and even take quizzes and play games to learn about new products.
The Sephora Messenger chatbot delivers tailored suggestions for skincare and beauty products, lets users schedule in-store appointments, and offers exclusive deals and discounts.
With the help of Domino's Pizza's Messenger chatbot, consumers can place and follow the progress of their pizza orders using Facebook Messenger, making the ordering process simple and convenient.
The Julie chatbot from Amtrak gives passengers access to real-time train updates and alerts as well as schedules, ticket costs, and booking details.
1-800-Flowers' Chatbot Gwyn: 1-800-Flowers Customers can order and deliver flowers using the Gwyn chatbot, which also offers personalized suggestions according to the occasion and their financial situation and even lets them follow their orders in real-time.
Overall, these retail chatbots help businesses grow sales and engagement while providing customers with a personalized, effective, and convenient shopping experience.
Frequently Asked Questions
How do I create a shopping chatbot?
Creating a shopping chatbot typically involves working with a developer or using a chatbot-building platform that offers pre-built templates and tools.
It also involves integrating the chatbot with relevant systems and data sources, such as inventory management and payment processing.
What can shopping chatbots do?
Shopping chatbots can perform a variety of tasks, such as helping customers find products, suggesting similar items, answering questions about availability and pricing, and guiding customers through the purchasing process.
Final Thoughts
A shopping chatbot is a type of AI-based software that aids clients in their online buying experiences by simulating human communication.
Chatbots for online shopping can assist customers with finding products, making recommendations, responding to inquiries, processing orders, and offering customer service.
Moreover, they can interact with payment processors and e-commerce platforms to help clients make purchases right from the chatbot interface.
To implement such amazing technology into your eCommerce store, contact YugasaBot today!