AI chatbot companies: We now have more chances thanks to innovation, and everything is quite straightforward for us. 
Everyone appreciates working with one another and anticipates quick responses.
You can connect with people regularly for a range of goals via online networking platforms or websites.
A chatbot is a type of software or computer program created to mimic spoken or typed human dialogue.
It is a conversational tool that accomplishes timely tasks and enables human-computer connection.
A pre-designed discussion box with built-in natural language processing is what distinguishes chatbots from other computer programs.
When a customer queries the bot, it responds quickly. The client feels as though they are conversing with a live person.
What is an AI Chatbot?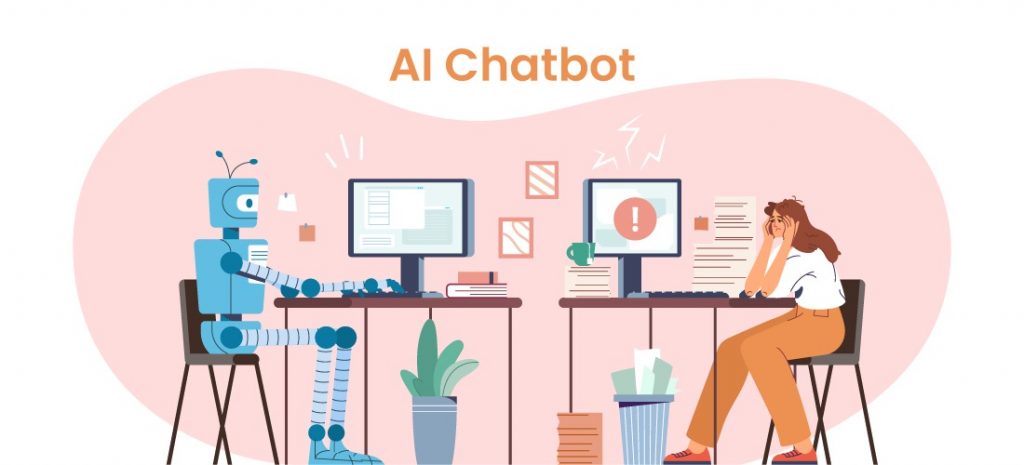 A website or app that uses NLP to replicate human conversations is known as an AI chatbot (natural language processing). 
Chatbots are designed to respond to users' requests without the assistance of a human operator.
Answering frequently asked inquiries and assisting customers in navigating a website or app are two common tasks performed by chatbots.
Top AI Chatbot Companies
The chatbot framework with AI integration from Yugasa Software Labs uses natural language processing. 
We are a chatbot development company that offers trustworthy chatbot development services for making customized bots for your business.
We use cutting-edge technology to build chatbots that improve engagement and delight users.
Alongside our committed team of specialists, you can create bots that allow you to keep control over critical data.
We can assist you in achieving your consumer and enterprise goals.
With almost 17 years in business, Hiddenbrains has a wealth of sector knowledge.
The company provides chatbots that leverage a range of technologies, such as artificial intelligence, natural language processing, and machine learning.
By providing engaging experiences and automated customer care through the use of chatbots.
Hiddenbrains hires a team of chatbot developers to build chatbots that will transform the way businesses connect with customers.
Teplar provides one-of-a-kind chatbot development services to create bots that are unique and catered to the needs of your company.
They use state-of-the-art approaches and technology to create chatbots that engage and please customers.
To automate customer care, enhance the customer experience, and facilitate digital onboarding for Fintechs and enterprises.
Floatbot, a SaaS-based Conversational AI platform, uses voice and chatbots that are driven by AI.
Using a powerful Workflow builder and Conversational AI features, users may create hybrid bots on the platform's DIY "No Code" platform.
An artificial intelligence system called Morph.ai is based on the WhatsApp Business API. 
Businesses may have meaningful conversations with clients thanks to the chatbot's AI capabilities, CRM tool, hybrid machine-human question-answering interface, and other features.
To make the most of Morph.ai and begin using the WhatsApp Business AP, register for a free trial account.
Known for delivering top-notch services on time and within budget, Squareboat is a reputable Chatbot Development company.
It creates chatbots with varying levels of intelligence that can interact with your consumers on any platform.
After completing over 100 expert Chatbots & Virtual Assistant projects for eCommerce, Education, Hospitality, Travel, F&B, and other industries.
BotsNext is swiftly establishing itself as a global leader in chatbot development.
BotsNext promotes digital transformation in the workplace by displacing antiquated methods and improving customer service.
To help you maximize your business contacts, Pixelcrayons, a company founded in 2004, provides a high-quality chatbot generation option.
Expert chatbot developers from the organization's Chatbot Companies in India have created chatbots and voice bots using a variety of frameworks, such as Amazon Lex, Microsoft Bot, and others.
A team of software experts with business intelligence, and experience in deep learning, mobile platforms, cloud systems, and application development makes up Maruti Techlabs.
It has a track record of exceeding clients' expectations.
The company attempts to provide continual innovation because of its extensive experience in software development, which allows it to understand the goals of the client's business.
Millions of customers rely on BotMyWork to help them reach their professional goals.
Slack and Hangouts Chat are just a couple of the messaging platforms and team collaboration tools it has developed several chatbot connections.
The business' Chatbot Builder for Facebook also effectively automates customer support and promotes conversational marketing to increase revenue.
Building bots that eliminate manual labor and enable automation is the team's goal to boost output across all business lines.
What are the advantages of the chatbot?
Now let's check out the advantages of Chatbots!

1. Chatbots have 24/7 Availability with AI chatbot companies
Whether day or night, chatbots can be used to answer client concerns! They don't require sleep!
Human customer support would need to rotate teams, which would be more challenging to manage, making it much more difficult to do.
This implies that chatbots can respond to consumer questions anytime they arise, which promotes greater customer loyalty
2. Chatbots can gather Customer Insights:
Companies thrive on customer data! Their ability to serve clients and increase success depends on how much data they have.
Those are the situations where chatbots come in handy.
To assess market trends, operational risks, etc., basic data on user preferences, purchasing patterns, sentiments, and other factors are provided whenever you engage with any chatbots on a company page.
3. Chatbots provide Long Term Financial Savings:
Companies with human customer service teams are required to pay their staff substantial compensation.
Additionally, if a corporation is big, expect big expenses from them as well!
In this case, a chatbot can lower this expense, resulting in long-term financial savings for the business.
Additionally, the chatbot may respond immediately, which saves time. In business, time is also money.
Final thoughts
As more businesses—including Facebook and Microsoft—announced the availability of chatbots, their popularity is growing. 
The top 10 chatbot development companies in India can be found using this list if you're seeking for a business to build your chatbot or develop an existing one.
Read More: Benefits of having a chatbot on your Website