Email Services for Businesses: From word-of-mouth product promotion to pamphlets and billboards, the marketing and advertising sector has gone a long way.
Everything has become so fast-paced in today's society, thanks to digital technology that has brought the world closer together.
With so many options, impatient customers, and a shorter attention span, efficient techniques to make a long-lasting impression and nurture clients are required.
With mass email programmes, email marketing has proven to be the most effective marketing strategy so far.
This blog post is for you if you're seeking an email blast service to send a mass email. Let's get started exploring right now!
What is the definition of a mass email service?- Email Services for Businesses
Bulk email (also known as mass email or email blast) is the process of delivering a single email campaign to a large number of subscribers at once.
Bulk emails often contain marketing messages, updates, bulletins, promotions, and invitations.
If you have a list of prospects or clients, you may use a single application to deliver content that is relevant to their interests or business.
What are the benefits of using a bulk email service?
Avoids the subscriber's email client labeling your message as spam or garbage (e.g., Gmail). It assists you in avoiding service denial from an
Internet Service Provider (ISP) or a hosting firm. Helps you avoid being
identified by the Federal Trade Commission for violating the CAN-SPAM Act, which could result in a $16,000 fine for each illegal email.
The most effective bulk email services – Email Services for Businesses
1. SendGrid
Next up is SendGrid, a mass email service that can be used to send both marketing and transactional emails. They're quite popular, and they offer current workflows and automation capabilities, including the ability to send automated emails using a single email trigger.
It allows you to leverage SMTP API or web API for deeper and better interaction.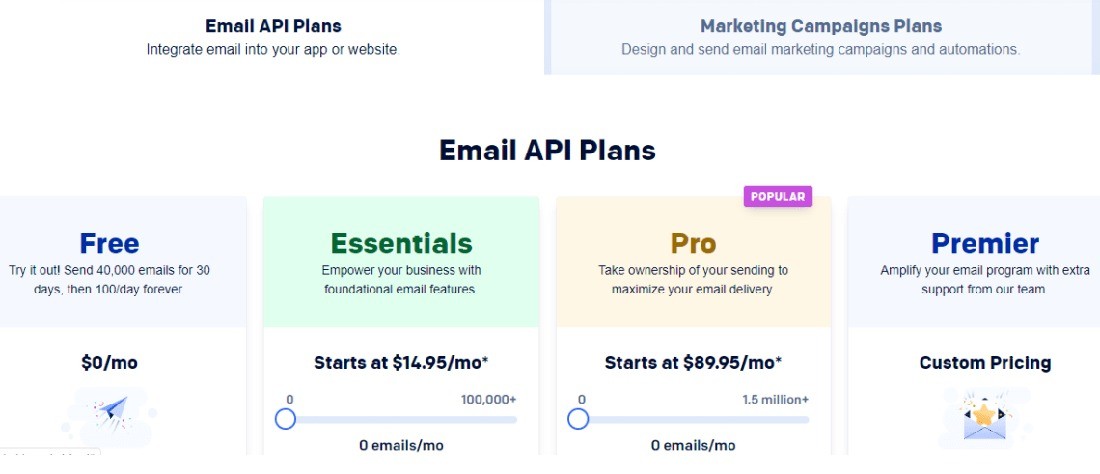 Features:
Non-technical users can use the tool's drag-and-drop functionality to send bulk newsletters.
Bounces, spam reports, and unsubscribes are all notified using the Webhook option.
It provides real-time data analysis.
To add contacts, utilize the Comma-Separated Values file.
2. MailChimp
"Mailchimp allows users to create and manage member queries seamlessly.
To personalize and design effective campaigns, utilize the data and marketing tools that Mailchimp provides.
Mailchimp also allows users to use automation features and send curated messages to select leads.
This is a really great Appexchange integration tool that makes organizing and acquiring leads easy and efficient.
Furthermore, with Mailchimp's reporting tools, all users can keep track of their marketing campaigns in one place.
Simply configure the Mailchimp for Salesforce AppExchange application to synchronize all data, upload previous Mailchimp subscribers and also quickly link them to existing contacts and leads."
3. Postmark – Email Services for Businesses
Postmark ensures that your mail is delivered quickly and that you can trace it easily. Because they just send transactional emails, they have a greater level of engagement.
Features
IP reputation, blacklists, feedback loops, reverse DNS, and all other low-level protocols are all taken care of for you.
Makes setting up SPF, DKIM, and DMARC to safeguard your
domain and reputation a breeze.
4. Mailvio
If you're looking for an easy way to get started with email marketing, Mailvio is your solution.
There is a 3-step process in place that you just need to follow. Start a campaign, write your email, and hit send.
They've also added for you some neat features like automatically following up with people who did not open your first email.
5. Send Blaster
SendBlaster is a web-based bulk email service that combines the capability of a mass email programme with the flexibility of a web-based bulk email service.
You can produce newsletters and manage lists right from your desktop, and you'll also get a cloud email tracking tool to help you report and optimize your email campaigns.
Features
It's well recognized for maintaining mailing lists, sending newsletters, and building up email marketing campaigns, in addition to sending bulk emails.
SendBlaster's internal email editor or an external HTML editor can be used to create a layout.
6. SendinBlue
To achieve excellent deliverability, SendinBlue delivers good deliverability, has sent time optimization so that readers are more likely to open the email, and manages IP Pools, and closely monitors your emails' reputation.
It has the following characteristics: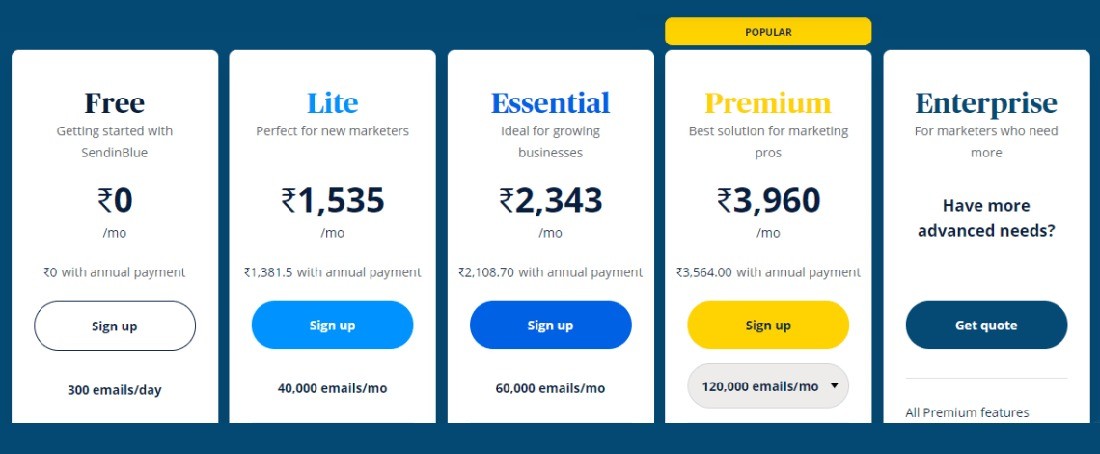 Your creativity will be fueled by the beautiful templates gallery. You will be able to inspire your audience with the Drag & Drop Builder.
Automated communication allows you to become closer to your contacts while saving time.
7. Mailgun
SMTP integration is simple using Mailgun. Mailgun has a wide range of deliverability capabilities as well as strong marketing automation solutions.

Features
Their RESTful API simplifies the process of sending transactional or bulk email by removing the tedious complexities.
With a plan tailored to your needs, they help you get more emails sent.
They also provide email validation that is both quick and accurate.
8. Mailjet
It offers a dependable, quick, and easy-to-use email service. Some of the characteristics are as follows:
Mailjet's drag-and-drop editor is free and simple to use. ● Your bulk emails can be customized to meet your specific requirements.
Create compelling automated emails in seconds with a user-friendly templating system and a simple layout designer.
9. Pabbly Email Marketing – Email Services for Businesses
Pabbly Email Marketing is a low-cost programme that lets you send bulk emails to all of your potential customers is one click.
This is the only programme that doesn't limit you in terms of features, so you'll get all of them with any subscription, including marketing automation, list management, and email tracking.
Features
Without incurring any additional fees, you can easily integrate in-built or 50+ external SMTP for sending emails.
Use autoresponders to communicate with users without having to connect with them manually. You can use this functionality to send welcome and apologies for the inconvenience emails to clients automatically.
Through its subscription forms, you can easily collect leads and business-related information.
Send emails to your consumers on a predetermined schedule or at certain periods.
Final Thoughts
It is possible to send mass emails without hassle if you use the finest email programme and use the best bulk email service provider.
Make sure you choose a solution that guarantees a specific inbox placement, offers help, and is dependable so you can meet your ROI goals.
Examine the numerous aspects of these services and choose the one that best suits your needs.
Read More: Integration of Chatbots and Email Marketing: A Boon for Businesses in 2021