WhatsApp Chatbot for Business: By 2021, WhatsApp will have surpassed all other messaging platforms. As a result of the pandemic, WhatsApp has witnessed a 40 percent increase in use.
Nearly every day, WhatsApp sends approximately 100 billion messages. WhatsApp's huge growth in popularity over the last few years has thrown up a slew of new options for businesses.
The WhatsApp Business bot is currently being used by companies all over the world.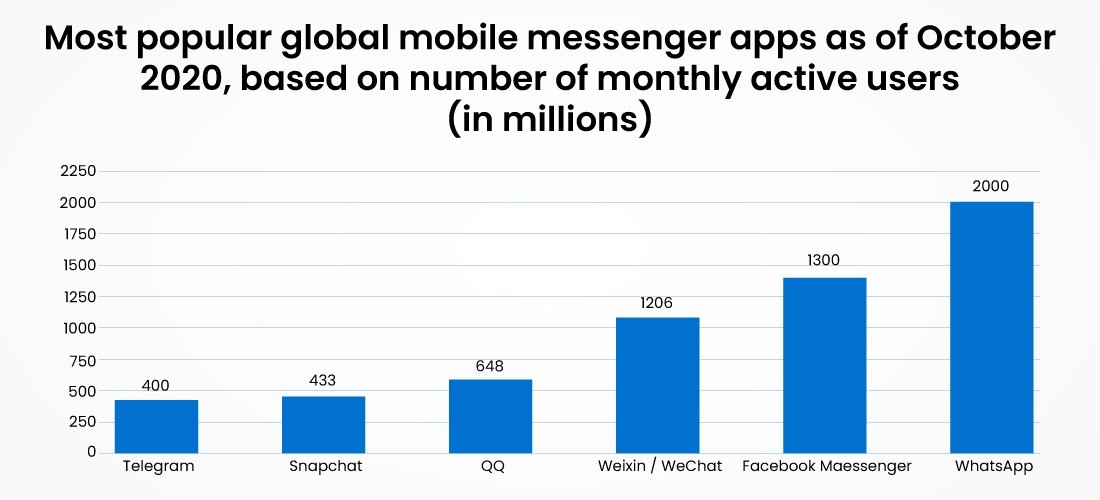 What is a WhatsApp Chatbot Business?
A WhatsApp chatbot for business is a software program that uses predetermined rules to interact with people; it's simple to set up and use. A chatbot might be communicated through text or even speech.
The program that a WhatsApp Chatbot uses defines it. You can automate your sales and customer care with the WhatsApp Business Account Chatbot.
If you use WhatsApp Business to operate an eCommerce shop, for example, a WhatsApp bot will respond to your consumers' requests by offering items and relevant categories.
What is WhatsApp Business?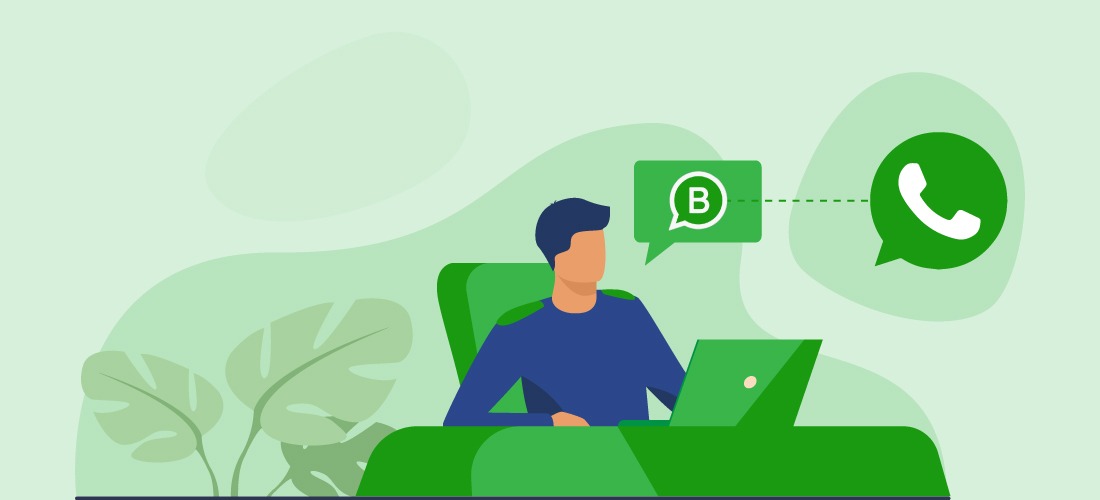 WhatsApp Business is a Facebook-created service that aids in the formation of enterprises.
WhatsApp enables businesses to engage with their customers through conversations, reminders, and confirmation messages, making it the best replacement for antiquated SMS systems.
There are two kinds of WhatsApp Business Solutions:
WhatsApp for Business
WhatsApp API for Business
With the WhatsApp Business API, you may create a chatbot on WhatsApp.
A WhatsApp business account is required to use a chatbot. The notion of a WhatsApp bot was established when Facebook introduced the WhatsApp Business API to companies in 2018.
By linking your systems such as a WhatsApp chatbot, CRM, chat agents dashboard, and so on, you can automate sales and customer support.
The WAB API outperforms the Whatsapp Business App in terms of functionality.
When you employ WhatsApp Chatbots and Natural Language Processing (NLP) engines like Dialogflow to automate conversations, the real magic occurs.
Businesses with a significant number of consumers, generally over 5000, should use the WhatsApp Business API. To use API, a firm must first create a WhatsApp Business Account via
Facebook's official website or through one of WhatsApp's partners. Once again, access is contingent on WhatsApp's permission. It is suggested that you apply with the help of a partner. WhatsApp's clearance procedure might take anything from 2 to 28 days.
Conversation Design and the WhatsApp Business Chatbot
When you create a bot for your WhatsApp Business account, it acts as the first interactive face of your firm. Consequently, the most critical component must be considered: conversation design.
The process of developing all of the many conversations your consumers may have with your WhatsApp Bot is known as conversation design. Conversation design may help you determine what your customers want and how they like to ask questions.
It's critical to recognize that users grow irritated when a Chatbot fails to offer the proper response. The user experience is enhanced by the conversational design.
It also boosts the number of inquiries your WhatsApp bot can answer correctly. Consider the following examples:
Build Many Chatbot Flows
Assume that there will be multiple conversational flows to lead users to your objectives, which will most likely be some kind of action.
Using numerous flows may help you make your Conversational Design more efficient.
Don't be a salesperson, but rather a supporter: When creating the conversation, make sure the chatbot is courteous and sounds like a personal assistant.
Please don't over-market your items or brag about them. Only reveal essential items to your consumers when they ask for them.
Add Useful Fallbacks
A chatbot will not be able to answer all of your inquiries. It's known as a Chatbot Failure or a Fallback.
When creating a discussion, avoid using a standard backup answer like sorry!' If at all possible, make it more interactive.
You may also show the main menu or a sub-menu so that people can find what they're looking for.
If the integrated chatbot has the functionality, you may also transfer the conversation to a live agent.
Long texts should be avoided: When was the last time you read a lengthy WhatsApp message? Maintain brevity and focus on your chatbot's answers.
If you are willing to go into more detail about anything, attach a document or media to your quick message.
The messages provide a call to action: To be more specific, boost sales. It is critical to include a call to action after a communication.
To put it another way, the chatbot must push the user to do a specific action, such as 'Buy now!'. A positive user experience can also help you boost your brand's value on WhatsApp.
Building A  WhatsApp Chatbot free download Has Many Benefits
The most significant advantage of Yugasa Bot is that you don't need to be a programmer to create a WhatsApp Chatbot. Conversational stumbling blocks might be made right away.
Your WhatsApp ChatBot will be distinct from the chatbot you use on the web (if you have one). Facebook's policies bind you.
Essential features such as Default Action and Pre-made conversational flows are available for selection.
You may either construct your CRM and dashboard systems to monitor your conversations and statistics after having the WhatsApp APIs or utilize the pre-built Yugasa Bot platform.
You'll get access to the latest up-to-date features as quickly as possible since Yugasa Bot is an official WhatsApp APIs supplier.
Many services can help you create a Chatbot. However, they may or might not work with your WhatsApp number.
You'll need to buy WhatsApp API from a provider like Yugasa Bot, which offers Whatsapp chatbot business Integration.
Best way to get started with WhatsApp Business App
1. In the App Store/Play Store, look for 'WhatsApp Business.
2. On your phone, download and install WhatsApp Business.
3. Please enter your cell phone number and use the OTP to confirm it. (Note: You may only use your WhatsApp Business number on the Business App after it has been validated.) It's a process that can't be reversed.)
4. Add a display image (your logo or a photo of your firm), a business name, a category, services, a description, and an address to the basic setup. Statistics, Short Link, Linked Facebook Page, and Quick Replies are just a few of the choices accessible under 'company settings.'
5. The chat pane and the rest of the user interface are similar to what you'd see on WhatsApp. We're not going to provide any screenshots since there's nothing new. With this app, you can do pretty much anything you can with the standard app. You may alter your status, see what others are up to, and make and receive audio and video calls among other things.
6. New customers, paying clients, partners, and other custom labels may be categorized and separated into chats. It's a valuable tool to help you when your customer base expands.
This is a fascinating feature that helps company owners save a lot of time. The honest answer will be arranged if you type a specific term after the '/' key in a rapid reply.
It comes in handy when sending a welcome greeting, a thank you letter or a message to a website to several contacts.
You may also automate the delivery of greetings and away messages to your conversations.
Frequently Asked Questions
1. Is it possible to download a WhatsApp chatbot for free?
No, you cannot download free WhatsApp chatbots.
2. What are the key features to look for in a chatbot for WhatsApp Business?
AI capabilities, customizability, and connectivity with business tools are essential qualities to seek in a WhatsApp Business chatbot.
3. Can I customize my WhatsApp Business chatbot's responses?
It is possible to customize WhatsApp Business chatbot responses.
4. Is it easy to set up a chatbot for WhatsApp Business?
With the help of chatbot creation tools or developers, setting up a WhatsApp Business chatbot might be simple.
5. How can a WhatsApp Business chatbot help me save time and improve efficiency?
By automating answers to frequently asked queries and managing simple activities, a WhatsApp Business chatbot can help save time and increase productivity while freeing up human resources.
Final Words
Chatbot for WhatsApp business has been both late and attentive when opening up its platform to companies. WhatsApp is adhering to its No Ads strategy and will not deviate in the future.
WhatsApp Chatbot for Business: As more firms join WhatsApp, though, a more subtle form of marketing emerges. It's what's known as conversational marketing (or WhatsApp marketing), and it's a far cry from the century-old advertising strategy.
As we approach 2020, it seems that debates will be the decade's defining characteristic. Let us take advantage of the situation before our rivals do.
Yugasa Bot is an AI-powered chatbot platform that allows you to develop amazing chatbots for various platforms and boost conversion rates by up to 40%.
Try out the Yugasa Bot chatbots right now!
Read More: A Complete Guide to schedule WhatsApp messages on Android and iOS