Businesses can advertise on the most widely used messaging platform in the world with WhatsApp Marketing.
With less friction and more reliable connectivity, it holds the potential to forge meaningful ties between a company and its consumers.
Given that more than half of WhatsApp users use the app every day, WhatsApp has a very high open rate when compared to other platforms, demonstrating the platform's enormous potential for commercial growth.
WhatsApp Marketing features your business can use
● Profile of a business
With the help of the WhatsApp Business app, businesses can set up a profile with details like their address, email, website, and business description.
The brand's promotion begins with this. Additionally, this information aids the company in gaining the user's trust.
● Address labels
WhatsApp enables businesses to tag their connections for quick access and arrange them.
You can effortlessly manage and arrange the connections thanks to it.
Labeling consumers and chats as "new customers" or "returning customers," for instance, enables you to keep tabs on their behavior and tailor offer to suit it.
● Multimedia Directory
Businesses can show off their goods and services to customers with the aid of catalogs.
You can include information like price, description, item number, and images.
The users' search for the product they want to buy is made simpler by this.
● Business Directory
A WhatsApp feature called the WhatsApp Business Directory is comparable to the Yellow Pages.
Users can look for nearby registered WhatsApp businesses using this feature.
It will be simpler for potential customers to find you if you provide more information about your company.
The feature is currently only accessible in Sao Paulo and Brazil, but it will soon be available in other nations as well.
● Whatsapp stories
Companies can use the tales function to advertise new releases, provide photos from the set, update customers on products that are back in stock, and more.
● Whatsapp groups
Businesses can divide their clientele into different categories based on parameters like geography, age range, purchasing preferences, etc.
Businesses can use groups to interact with people in a more personalized way and market to the proper target market.
● Validated badge
You can put a verified badge next to the name of your business using WhatsApp's business API.
It provides users with the same assurance that your company page is authentic as the business profile function.
Do's and Don'ts of WhatsApp Marketing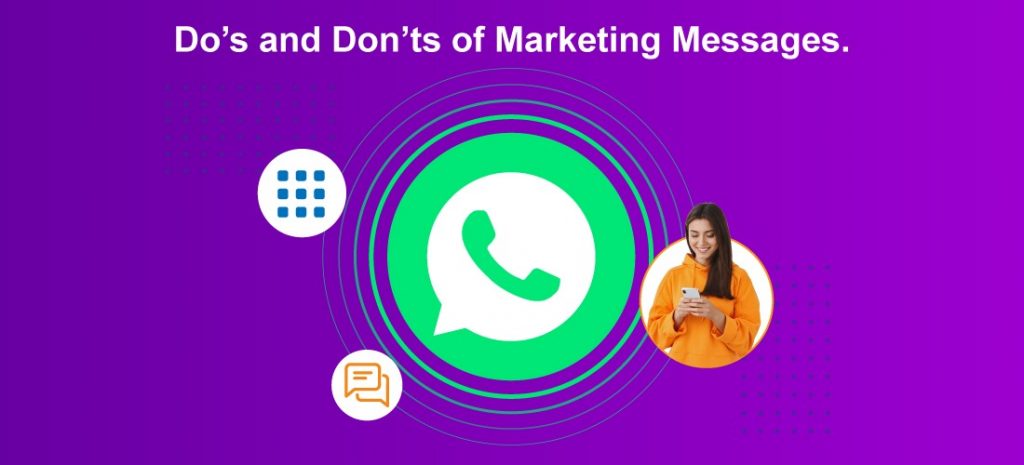 Do's
● When you offer your products or services for sale, be sure your company conforms to WhatsApp's commerce policies.
● Before sending the consumer any messages, you must have opt-in permission verifying their approval.
Customers who anticipate receiving pertinent, useful information will gladly give you their approval.
● Send simplified, customized messages. When customers get a message that is random, irrelevant, or otherwise acts as junk, the likelihood that they will block the message is great.
To prevent being blocked, you should personalize and be clear with your messages.
WhatsApp closely monitors security metrics and bans repeat violators.
Don'ts
● Avoid sending communications that your clients will completely forget about or refrain from sending too many messages too frequently to irritate them.
● Stop delivering marketing communications to clients who aren't as interested.
● Never re-engage individuals who have unsubscribed with promotional emails.
Is WhatsApp marketing profitable for your company?
Using WhatsApp Marketing makes it simple to organize all of your clients' communication channels.
Some advantages include
● Broader population base
When you extend your reach to other demographics, you will probably reach the upper end of your company's prospective earning range.
With more than 1.5 billion users, WhatsApp's marketing platform allows you the power to instantaneously interact with a broad audience of people of all ages, professions, backgrounds, and genders.
● Encourages individualized and interesting interactions
Personalized and interesting communication quickly wins the hearts of your customers.
WhatsApp messaging enables content customization based on user interests, requirements, values, and purchasing habits.
Companies might use one of the many rich media alternatives at their disposal to make communication entertaining.
Additionally, it encourages brand loyalty, retention, and word-of-mouth advertising.
● Customer assistance and service in real-time
Customer engagement throughout the purchasing process is one of the best aspects of WhatsApp marketing.
Any questions or confusion are answered immediately.
Additionally, users may evaluate the choices provided, make decisions, and request assistance as needed all from a single chat window.
● High ROI
Even if there are numerous marketing methods available, WhatsApp is still quite economical, which attracts both small and large enterprises.
There is no need for anything more than an Internet connection.
You can start using the application after you install it.
The ROI in this channel is quite high due to improved conversion rates, increased sales, and stronger customer connections.
WhatsApp Vs Email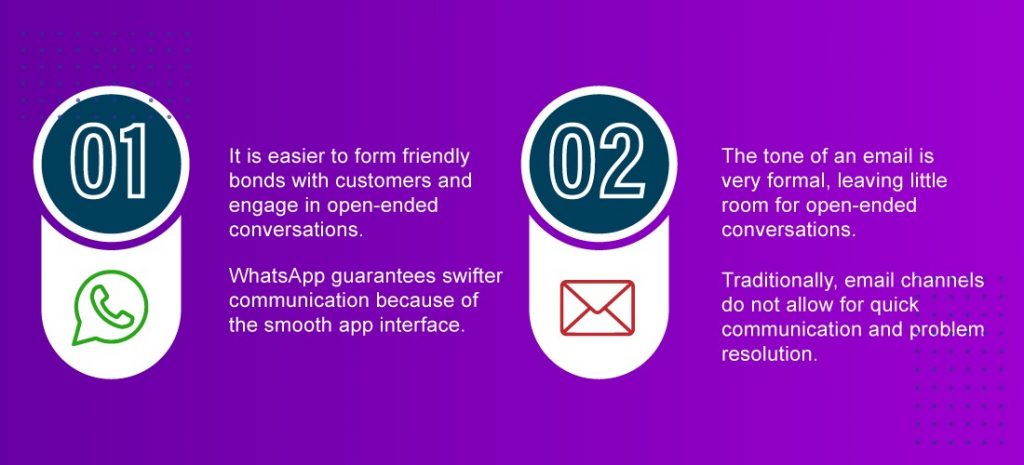 ● Compared to email, it's simpler to start a friendly chat on WhatsApp.
● WhatsApp has an open rate of 98%, compared to 21.33% for emails.
● WhatsApp is more responsive than emails.
● The speed of communication relies on how frequently the recipient checks their email.
When a person reads your message, WhatsApp notifies you.
FAQ'S
What is WhatsApp marketing?
WhatsApp marketing is a straightforward marketing strategy that allows any company to use WhatsApp to promote its brand.
With less friction and more reliable connectivity, it holds the potential to forge meaningful ties between a company and its consumers.
Is marketing on WhatsApp expensive?
It's free to download the WhatsApp business app. So, WhatsApp marketing will be incredibly cheap.
The initial setup, server expenses, and sending of business-initiated messages will all require payment once you choose WhatsApp business API.
Final thoughts
Businesses have a lot of opportunities to interact with customers through WhatsApp where they are already.
Users are more likely to buy from your company on WhatsApp with less effort on their part.
Use the same channel to sell both your goods and services.
Yugasabot is a leading Chatbot worldwide.
Our conversational AI enables you to have natural interaction while automating your marketing strategy on WhatsApp.
Read More: The Top 4 Inspiring Examples of WhatsApp Marketing Campaigns in 2022