WhatsApp Business APISolution: The insurance industry is one industry where effective communication is critical. Insurance firms assist in the reduction of risk, the provision of a sense of security, and the overall provision of peace of mind.
Anything less than seamless and effective communication with policyholders, on the other hand, could lead to turmoil and fear.
The moment for insurance firms to streamline and digitize their correspondence is now, as the globe advances in technological breakthroughs.
WhatsApp is the platform to be on, with a big section of the world's population using it. In this article, we'll look at the biggest difficulties facing the insurance business, as well as the advantages of using the WhatsApp Business solution and messaging templates to help with communication.
Challenges Facing the Insurance Industry- WhatsApp Business API Solution
Let's start with a look at some of the current difficulties facing the sector.
Policyholders have a higher level of expectation- WhatsApp Business API Solution
Consumers are increasingly emphasizing the need for flexibility and simplicity in everything they do, from communication to payment methods.
The claims process is confusing to policyholders
When it comes to filing a claim, it's natural for policyholders to feel disoriented and overwhelmed.
The majority of people are uncertain about the procedure, including what documentation is necessary, the file-by date, and other details.
Following filing, the insurer fails to communicate with the claimant to let them know if their claim has been received.
Digital marketing and communication skills are lacking among the workforce
Insurance companies' hiring processes have remained unchanged for the past 20 years, according to a PwC analysis.
Agents with strong in-person abilities are no longer enough. Agents must be able to use the most up-to-date technology and communication tools in order to adapt to the digitized world.
All of these issues are reasons why insurance firms should think about streamlining and improving their services, starting with communication.
Integration of WhatsApp Business into their business is one of the greatest and most successful ways to do this.
The benefits of using WhatsApp Business for insurance businesses will be discussed in the next section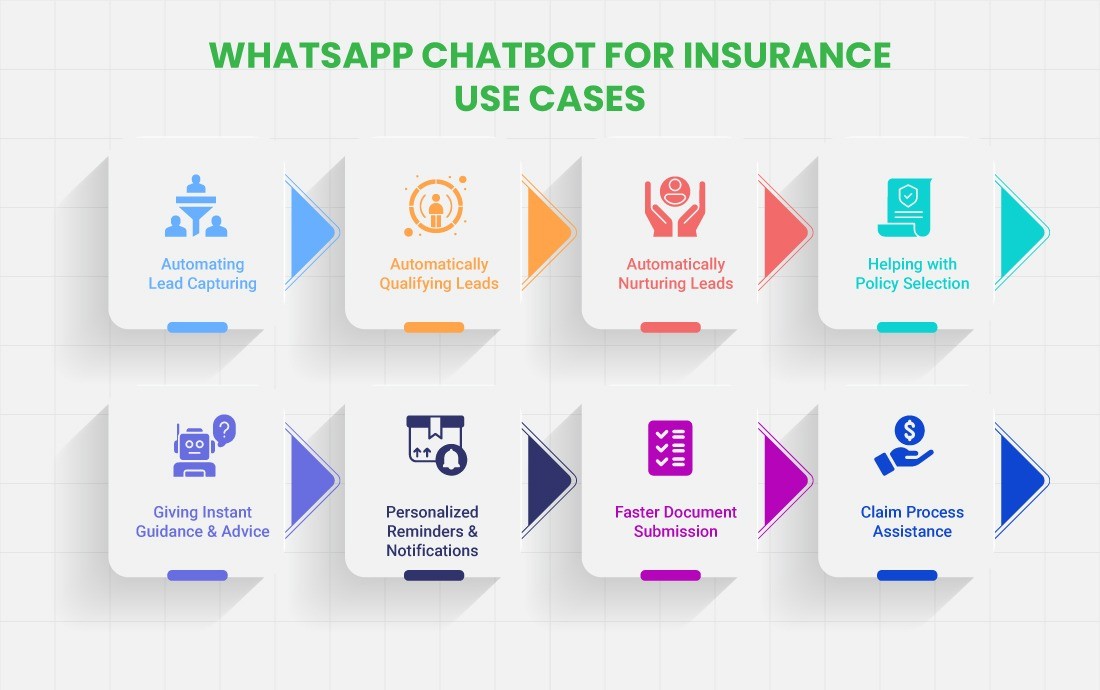 The Insurance Industry Can Benefit from WhatsApp's Business API Solution.
Whether you employ WhatsApp chatbots or simply allow consumers to contact you over WhatsApp, the ability to engage with you via WhatsApp improves the customer experience.
Because WhatsApp chatbots are available 24 hours a day, 7 days a week, they can assist in the start-up of procedures even when the office is closed.
When policyholders need to make a claim, this comes in helpful. Users don't have to wait till a human agent is online to seek help, which speeds up information processing and service for the organization.
1. Fill out and submit claims (On-the-Move) WhatsApp Business API Solutions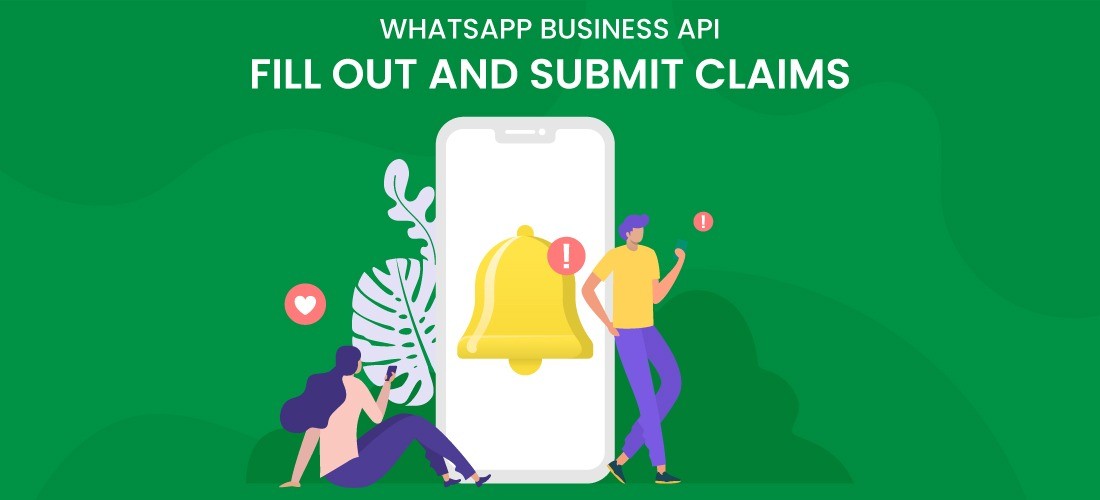 How to Use Them Securely Highlights of Multimedia. One of the tool's most useful features is the ability to share multimedia files over WhatsApp Business.
Policyholders can use WhatsApp to share everything from images and videos to documents, audio messages, and even their location when submitting claims.
2. Automate the processing of information
Insurance businesses can utilize the WhatsApp chatbot to automate the collecting of user data (name, age, type of insurance required, income, budget, contact information, and so on) in order to assess what plans are available.
To speed up the sales process, this can be done. Your agents will save time and energy because everything is automated.
As a result, when a salesperson finally gets around to it, he already has a good idea of the customer's profile and requirements.
One important advantage is that if a user contacts you via WhatsApp, you have his or her phone number right away.
3. Use automation to qualify leads
This connects to the last point. The data gathered can assist your agents (or CRM, if you use one) in filtering and separating excellent leads from those that are unlikely to result in a sale.
For example, if a potential client has a budget that's less than the lowest premium your range of insurance policies offers, or any other issues that immediately You can instantly turn him away if you don't think he has a possibility of acquiring coverage from your company.
Similarly, a list of policies can be displayed to the client automatically on WhatsApp Business. You may either send links to specific landing pages on your website that outline your policies, or you can send a plain text message.
You might also provide them the option of downloading PDF files including policy details.
You may notify your customers when a policy is about to expire and urge them to renew on time to avoid a lapse using WhatsApp Business.
You can, for example, check in with them to see if they have any forthcoming vacations scheduled and remind them that you (or your WhatsApp chatbot) are available for simple insurance purchase.
This is especially true in these COVID times when travel is still not what it once was. For ecommerce businesses, check-out reminder SMS works similarly to cart abandonment reminders.
However, they are more common with travel and pet insurances than with more important insurances like life and medical.
This message will be useful if you have a "get your quote" function on your website that visitors may use to fill in their information and instantly select and purchase a policy. It can be
delivered to users who begin the procedure, make it to the finish, but do not complete it and check out.
Wrap up – WhatsApp Marketing Templates for Insurance Companies
Now that you have a better grasp of the WhatsApp Business API solution's benefits for the industry, let's have a look at some practical features:
WhatsApp conversation templates. In this bonus section, we've included three extra ways for increasing communication (and the number of touchpoints) with your customers, as well as templates that you may use.
These can be customized to your company's brand and toned casually or formally depending on your positioning.
Remind me about policies that are about to expire. Even though it is common, insurance plans are rarely automatically renewed.
Read More: The New WhatsApp Business Pricing: What It Is and How it Affects Your Investment