WhatsApp Chatbot in Real Estate: Real estate is the driving force behind global development. The real estate market in India alone is worth US$120 billion. It is predicted to reach a value of $1 trillion by 2030 and contribute 13% of GDP by 2050.
The demand for technology in the industry is constant. Institutional investors have poured money into real estate firms including Nestaway (Raised $104.2 million), PropTiger (Raised $85 million), NoBroker (Raised $71 million), ZoloStays (Raised $35 million), SquareYards (Raised $53 million), and CoLive (Raised $12 million).
Prestige, Embassy, Puravankara, Bagmane, Synergy, Mantri, and Brigade are among the developers who have expanded quickly to meet the rising demand.
One investor stated, "Find me a more compelling asset class than logistics in northern India, and I'd take that bet all year."
Companies use technology and big data to assist clients in saving money, finding better bargains, and listing their homes faster.
Statement of the Issue
While the technology employed is cutting-edge, the manner in which real estate companies communicate with their clients is not. Customer communication is a particular problem for the real estate industry.
Sales and support in the real estate industry are based on two factors: trust and quickness. However, tactics used by real estate companies, such as email and phone calls, offer little to inspire. Emails are frequently slow and clumsy, and they lack the human touch that qualifies and closes leads.
Calls are inconvenient; the last thing a 9-5 executive vice president needs is someone calling him every 30 minutes. Furthermore, each of these channels requires human representatives, making them both expensive in the short and long term.
Solution
Real estate organizations are in severe need of a channel that can produce, qualify, and retain consumers while also being quick and easy to automate.
WhatsApp is the world's most widely used messaging app. Every day, we use WhatsApp to communicate with friends and family, from homeowners to executives to brokers.
This customization is also accompanied by a sense of urgency. Chatbots may answer client questions, create and qualify leads, persuade customers to schedule site visits, complete transactions, and transfer documents 24 hours a day, seven days a week.
Companies may save time and resources while ensuring that their clients are continually engaged and served by using a WhatsApp Chatbot for Real Estate.
Each real estate firm has its own set of operations and customer journeys. Lead generation and qualifying, as well as property visits and booking slots, are all possibilities.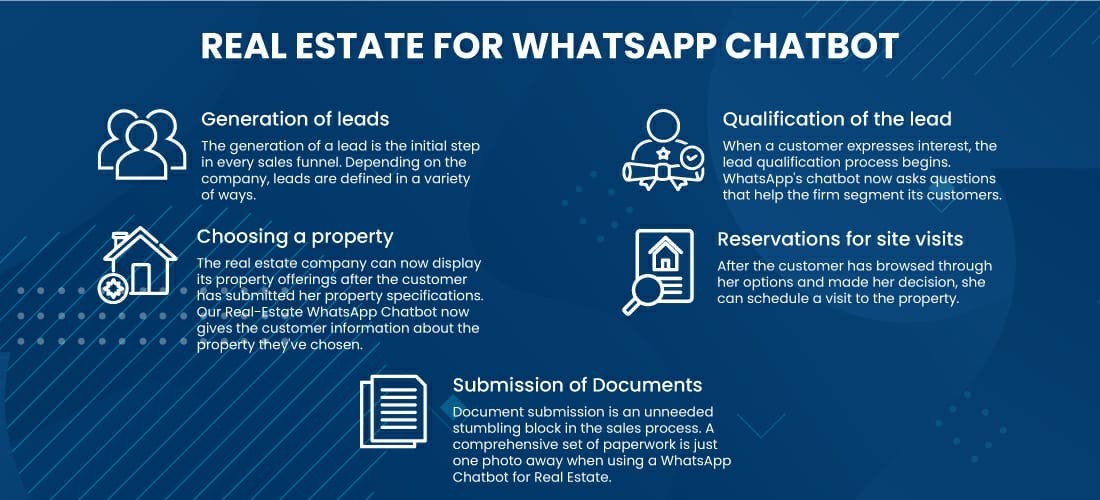 1. Generation of leads
The generation of a lead is the initial step in every sales funnel. Depending on the company, leads are defined in a variety of ways.
We collect three data points in the Real Estate industry because we want to be able to talk to customers after they've purchased a home. The name, email address, and phone number of the customer.
2. Qualification of the lead
When a customer expresses interest, the lead qualification process begins. WhatsApp's chatbot now asks questions that help the firm segment its customers.
Specific types of properties are catered to by certain companies. The qualification enables them to quickly identify high-value consumers who can be easily serviced. It's critical to get the user's needs right from the start.
3. Choosing a property
The real estate company can now display its property offerings after the customer has submitted her property specifications. Our Real-Estate WhatsApp Chatbot now gives the customer information about the property they've chosen. A consumer will have a better, faster
experience as a result of this. It also provides a personal touch to the decision-making process for customers.
4. Reservations for site visits
After the customer has browsed through her options and made her decision, she can schedule a visit to the property. This procedure can be automated by employing a WhatsApp Chatbot for Real Estate. Based on the available time slots, a consumer can schedule a tour of the property they're interested in.
5. Reminders about confirmation
It is critical to follow up after a visit has been scheduled. No-shows can cost businesses anywhere from 10% to 50% of their scheduled appointments. This translates to lost potential earnings due to a variety of factors ranging from forgetfulness to a hectic schedule.
Visit confirmations, scheduling, property location, and agent details can all be sent via WhatsApp bot. Customers can also choose to reschedule their appointments if necessary.
6. Submission of Documents
Document submission is an unneeded stumbling block in the sales process. A comprehensive set of paperwork is just one photo away when using a WhatsApp Chatbot for Real Estate.
Rather than having customers wait in lines or for an assistant to pick them up, provide them the ability to send messages to you in seconds.
7. Reminders about payments
It's important to make sure the consumer has a terrific post-sales experience after the sale is completed and all relevant documentation has been filed.
Send consumers personalized alerts to gently remind them to make their payments, whether it's an EMI, a rent payment, or something else.
Customers are no longer subjected to a flood of phone calls and emails. You can make a human connection with closed leads with a WhatsApp Chatbot for Real Estate.
8. Support from the owner
The consumer has made the most recent payment. Your client has moved into their new home. They're content.
But one day they won't be. They have a question or a grievance.
Use your Real-Estate WhatsApp Chatbot to solve their problems quickly and comfortably. You have the option of automating the procedure or simply handing the agent off to a human representative, as we have done.
Your bot can easily manage questions from property owners, buyers, and renters. With ease, respond to queries concerning payments, maintenance, and so on.
So, in conclusion:
They contribute to revenue growth by generating high-quality leads.
Chatbots save money on customer service by automating routine tasks.
For both agents and customers, Real Estate Bots are more user-friendly than their competitors.
They're a more efficient mode of communication.
Chats, unlike emails, establish a human connection.
Unlike calls, they are non-intrusive.
Chatbots for real estate boost customer satisfaction and the whole customer experience.
Read More: 10 Best Chatbot Builders for 2022 [Reviews & Features]